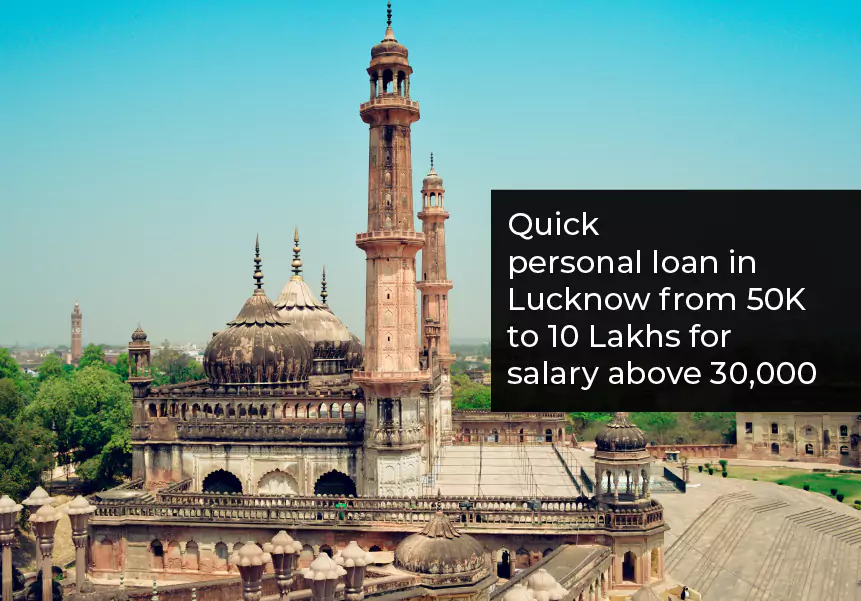 Published on : March 17, 2022
Digitalization is being used by the consumer lending business to broaden its horizons beyond traditional lending methods. With the stroke of a mouse, you can now view all of the products available on the market. You can compare the features of several personal loans and online lenders to determine which one is ideal for your needs. These products are more appealing to working professionals and millennials since they may be customized and have flexible payment periods.
Lucknow, the state capital of Uttar Pradesh, is home to a number of banks that offer personal loans and other financial products at cheap rates. If you're looking for personal loans in Lucknow, you'll be relieved to learn that you can get personal loans at competitive rates. Getting a loan is simple with minimum documentation, low processing costs, and speedy disbursals.
What is an instant personal loan?
Personal loans are unsecured loans that can be obtained without the need to put up any collateral or security. Without any physical papers, one can check eligibility and apply for a Personal Loan online in a few simple steps. Every step of the verification procedure is completed online. Lenders may now evaluate your eligibility quicker because of cutting-edge technology like Artificial Intelligence (AI) and Big Data. As a result, the loan disbursement process is expedited which means you can acquire a personal loan practically immediately.
Eligibility and proof of residency are necessary.
If you are employed and earn a net monthly income of more than INR 30,000 per month, you are eligible for this loan. Individuals who work for a private company or for the government can apply for a personal loan right away based on their creditworthiness. The lender will determine the ultimate loan amount based on your credit score and financial history.
There is no consistent list of documentation because it varies with each lender. However, the following are the essential documents:
Account Number (Permanent) (PAN)
A ration card, Aadhar card, passport, or utility bill can all be used as proof of address.
Pay stubs over the previous three months
Salary account bank statement for the previous six months
For more information, the lender may request supplementary documentation.
What do you need to do to get a personal loan right away?
An Instant Personal Loan allows you to apply from the comfort of your own home. Let's have a look at the steps in the application procedure:
To check your eligibility for the loan you desire, simply go to the lender's website or download their mobile application.
Fill out the online application form and upload your documentation if you are eligible.
You can either upload the papers to the website or send an email with the documents attached to the given e-mail address.
Download the agreement and a few basic documents as per the checklist after the loan has been approved. Each document must be signed before being handed over to the agent.
Your documents will be verified by the lender using modern methods such as Artificial Intelligence.
Following completion of all required verifications, they will initiate immediate disbursement of the loan amount to your account.
If you have supplied all of the relevant paperwork, this process will take only 24-36 hours.
What is the difference between a bank loan and a loan obtained online?
Convenience
Online personal loans can be accessed from anywhere as long as you have access to the internet. These are much easier to access at any time thanks to mobile applications. Offline personal loans, on the other hand, require you to physically visit the bank. You must meet with the person in charge to obtain any loan-related information and to complete the documentation necessary to apply for your loan.
Time required for processing
Because no physical verification is required, the processing time for internet loans is faster than for bank loans. Your loan is sanctioned after the lender completes digital verification. Because everything is done physically, the processing period for bank loans is longer. The loan is only disbursed after all of the documentation has been personally reviewed.
Comparison of product features
You can compare the offerings of numerous lenders with the push of a button when it comes to online loans. When comparing items in offline loans, however, you must visit each lender separately, collect information, and manually compartmentalize it. This task could be time-consuming and tedious.
The charges involved are transparent.
The fees associated with borrowing money online are detailed on the vendor's website. There are no further charges. For offline loans, you may be required to pay a fee for document attestation or pay a commission to the agent.
What are the current fads? Which reputable lenders are currently available on the market?
Online personal loans are becoming increasingly popular due to features such as ease of access and rapid approval. The market for such loans is expanding, and internet lenders such as LoanTap are acquiring significant market share. Traditional financial institutes are moving into e-commerce platforms in response to the rapid rise of the immediate lending market.
LoanTap is a fintech company that has transformed the instant personal loan industry. We offer EMI-free loans, credit card takeover loans, rental deposit loans, advance salary loans, travel loans, wedding loans, superbike loans, and personal overdrafts. We believe in making dreams come true. All of our goods are tailored to the demands of the customer. We take pleasure in offering excellent customer service and safeguarding your personal information with a highly secure and encrypted system. We use technology to make these loans available within 24 hours and on terms that are convenient for our customers.
Conclusion
A personal loan is a financial tool that can assist you in making quick financial decisions so that you can pursue your dreams without delay. Though personal loans are simple to apply for in Lucknow, it's important to remember that the lender has the last word on whether or not to approve or reject the loan application. This is why it is critical that you take the necessary steps to ensure that your loan application is as appealing as possible. A good credit score might also improve your chances of being approved for a loan. From the perspective of the lender, a credit score of 750 or more is regarded as an excellent score because it demonstrates your ability to repay the loan. The evolution of the personal loan segment has made it possible to meet financial needs quickly! It's simply a matter of selecting the appropriate personal loan from the appropriate provider!
We offer online loans ranging from Rs 50,000- Rs 10,00,000 at low-interest rates at LoanTap.
To apply for a loan right now, use our Online Loan App: Apple App Store / Google Playstore or click on https://loantap.in/ .