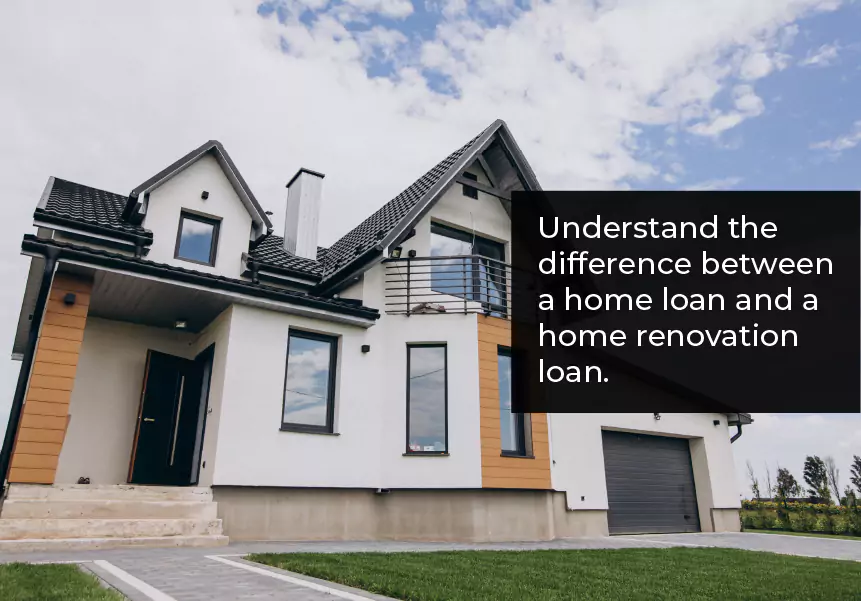 Published on : June 20, 2022
Having your own house is everybody's dream. Your home is the ultimate place to feel comfortable away from the outside hustle. Your home decor should also be updated with your changing lifestyle.
Whether moving to a new home or upgrading your current home, you will need a sizable amount to finance. Banks and NBFCs offer different home loan options. Depending on your purpose, the type of loan is determined.
A home loan can be an affordable solution if you want to upgrade your home or purchase a new one. A home renovation loan is a good choice to renovate your abode.
So, this article will tell you everything you need to know about home loans and home renovation loans. We will also understand the general difference between them.
What Is a Home Loan?
A home loan is a financial product available to borrowers to get a certain amount of money to buy a house. Lenders enter into a loan agreement with the borrower whereby the borrower agrees to repay the loan over the agreed repayment period at specified interest rates.
A home loan is a secured loan as the loan is given against the house which is pledged as security with the lender. Borrowers can borrow a lump sum to purchase a new home. It also includes various loans for different purposes, such as home extension loans, home improvement loans, etc.
With a home loan, you also have the advantage of tax benefits under Section 80C of the Income Tax Act on your principal component. There are tax benefits on the interest under Section 24(b) of the Income Tax Act.
Benefits of Availing a Home Loan
A home loan is the best decision to take when you want are looking for your dream house. It offers high-value funding at home with economical interest rates for a long tenure. They can be repaid as EMIs. As soon as you pay off all the loan amount, the property will be transferred to your name.
Tax benefits
Borrowers will get the tax benefits on the loan amount. The government of India also encourages common people to take a home loan by providing a tax deduction on the principal. According to Section 80C of the Income Tax of India 1971 Act, an individual may claim a deduction up to Rs 1.5 lakh per financial year. Section 24B of the Income Tax of India Act allows a deduction of up to Rs 2 lakh on the interest portion. However, the tax deduction is offered after the construction of the house is complete.
No prepayment charges
Lenders will not charge any prepayment penalties toward home loans. If you have surplus money, you can make a partial payment on your home loan and reduce your burden. A floating rate home loan, however, will come with prepayment penalties.
Balance Transfer Facility:
An online home loan will transfer the loan amount to the lender. It also provides the facility to transfer your loan to a different lender at lower interest rates and reduce the monthly instalments. Hassle-free loan transfer from existing financiers to the bank makes borrowers less worried.
Easy to buy a dream home:
Self-employed and salaried workers struggle to buy their dream homes. With their savings, it is not possible to buy a home. A home loan will help fulfill the wish by giving an easy repayment option to buy a house.
High repayment Tenure:
Along with a higher loan amount, it offers the longest repayment tenure of up to 30 years. It can reduce the burden of paying huge installments by extending repayment tenure. Also, borrowers can use the EMI calculator to know how much EMI they have to pay, depending on interest rates and home loan tenure.
Saves you from paying rent:
In metropolitan cities, renting a house or an apartment is already very expensive. Working professionals struggle every month to pay rent. It can put a strain on your monthly budget. It makes more sense to pay an EMI and own the house. Over a period of time, an asset will be created. By owning a house, you can manage your monthly budget comfortably.
What is a home renovation loan?
Your home needs an upgrade every now and then that reflects your taste and style. Renovation is the best way to improve the look and feel of your house. It will require new installations, furniture, painting ceiling and walls, and more. When your savings are not enough to fund the improvements, home renovation loans can finance the remodeling or repairing of your house. You can renovate your kitchen or design your children's nursery with a loan.
Benefits of home renovation loans
Home Renovation loans are a type of loan that helps repair/ renovate a home. Borrowers can apply for this personal loan to change their apartment/floor/ row house. It can be used for various purposes, including painting and whitewashing, tiling and flooring, waterproofing, plumbing and sanitary work, and more.
Affordable interest rates: Online Home renovation loans offer you the best deals to finance small and big repairs. It also comes at affordable and fixed interest rates. Now, you can relax while taking a home renovation loan and manage your repayments.
Hassle-free process: The hassle of submitting documents is a time-consuming process. A home renovation loan from LoanTap is easy to get with the basic documents, which you can upload or submit while completing the application. Documentation is minimal and can be completed online with no hassle.
Home renovation loans are a type of personal loan which are essentially unsecured. It means that borrowers don't have to give any assets or collateral to avail of the loan. It is the reason why it is also a low-risk personal loan.
Unlike a home loan, borrowers will get to repay the loan over a tenure of up to 60 months. A home improvement loan is a short-term loan designed to finance improvements or renovations only.
Basic Difference Between Home Loan and Home Renovation Loan
| | | |
| --- | --- | --- |
| Comparison Based On | Home Loan | Home Renovation Loan |
| Term of the Loan | Home loans are offered for long-term needs. Repayment tenures may be 15-20 years or more. | It is a short-term loan.The maximum repayment tenure is 5 years. |
| Interest Rate | It is a secured loan that can be repaid over a long duration of 15-20 years Banks and NBFCs charge lower interest rates compared to renovation loan | It is an unsecured loan. So, borrowers need not deposit collateral. They can get loans at competitive interest rates. |
| Disbursement | Home loan will be disbursed all at once. | It will get disbursed instantly |
| Ease of processing | Home loans involve a lot of paperwork and documentation and may take a few days to be processed. | Home Renovation Loans involve minimal documentation and can be processed within 24 hours. |
The Final Note
Home loans and home renovation loans are designed for different purposes.  LoanTap can be your best bet if you want a home renovation loan or need a personal loan for a down payment towards a home loan. There are other types of personal loans to cater to any of your home-related needs. Check out the LoanTap app today!