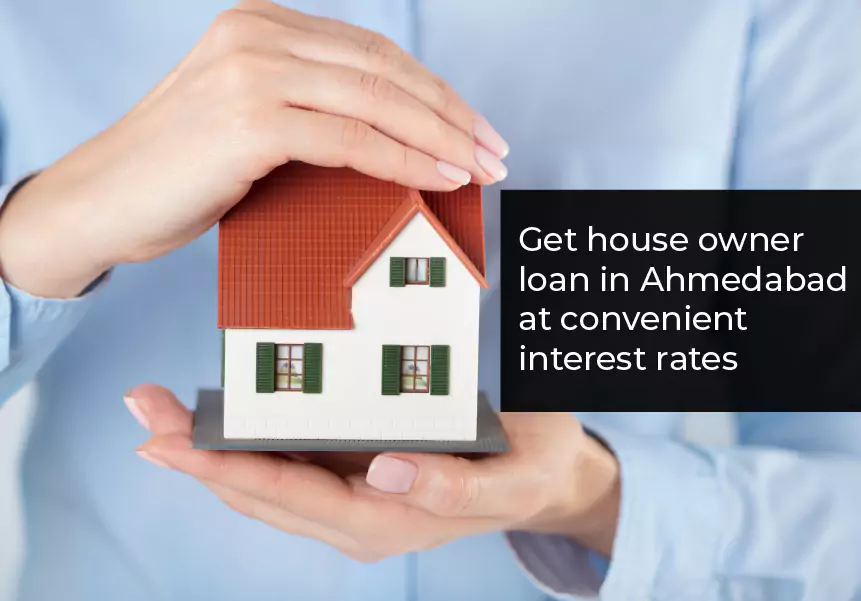 Published on : February 01, 2022
Ahmedabad is one of the best cities in India. It is the largest city in Gujarat, where you can experience both urban and cultural lifestyles. Whether you are a student, working bachelor, or family with kids, this growing city is perfect for anyone. However, the cost of living is quite high. Having a home adds expense to your monthly budget. Home improvements also require high investment to improve the aesthetic appeal. Even a regular kitchen renovation in Ahmedabad may cost you over INR 50,000.
Homeowner Loans bring the ideal solution to combat this problem of costlier home renovation. This type of personal loan can make renovation and refurbishment easier. Also, the real estate prices keep soaring. People living in Ahmedabad also suffer due to the increased cost of home repairs. Keeping these issues of house owners in mind, LoanTap has designed a unique financial product for home renovations. Taking a homeowner loan to repair your outdated home interiors can be a great solution.
Home Improvement Loans for Salaried – How does it work?
Renovating your home in Ahmedabad is quite an expensive affair. It can take all your savings in one go. Home Owner Loans can help you meet all your home renovation needs. With the customized personal loan, you can afford to pay off the loan as flexible instalment options over a long tenure. Check the other list of interest charges and the easy repayment tenure period.
Loan Amount- LoanTap offers you the amount available up from INR 50,000 to INR 1,00,000. The Final loan amount calculation depends on your annual income and CIBIL score.
Loan Tenure – This term loan is easy to pay in Fixed EMIs over a tenure of 6-60 months. Choose the tenure period as per your financial capability and the exact loan amount.
Interest Rates: Personal Loans for revamp your home are available at an annual interest rate of 18%. The interest rates may vary depending on your credit score and account balance.
Processing Fee – It will charge 2.5 % processing fee on the loan amount plus applicable taxes.
No Prepayment or foreclosure charges are applicable post six months.
Why should you opt for home renovation?
Easy and Quick Approval: Home Renovation Loan from LoanTap is easy-to-access and gets done in just a few clicks. You will get the loan approval on the same day if your documents are valid and updated.
Easy Repayments: You will get customized instalment options to repay the entire loan amount. This personal loan for home improvement can be paid off in either bullet payments or fixed equated monthly payments.
Loan tenure options: Home Renovation Loan offers you enough time to repay the loan amount over a tenure of 5 years. Loan tenure may vary depending on the loan amount and income.
Minimal paperwork with maximum ease: You only need basic documents to get loan approval. To fulfill the requirements of availing of the Online Home Owner Loan, it requires you to upload documents, such as identity proofs, bank statements, and other documents to verify your identification and credit history.
No Hidden Charges: Personal Loans are easy to get with no any hidden charges on the loan amount. You need to follow the transparent process to fill out the loan application and get the instant disbursal online.
Flexible Instalment Options for House Owner Loan
Repairing a Home can put a hole in your pocket if you are living in Ahmedabad. It takes immediate funds to make your home a lively and comfortable place to live. That is the reason why LoanTap designed Home Owner Loan to cater to home renovation needs. It offers four customized instalment options to get a unique personal loan:
Interest Only EMI Loan
Interest-only EMI is a very convenient method of paying off your loan. In this option, you need to pay only the interest component on a monthly basis. The principal can be paid in bullet payments on a quarterly or half-yearly basis.It reduces the monthly cash outflow by 40%. This is perfect for those who receive variable incentives or bonuses several times a year.
Step-Up Loan
A Step-up loan will help you to manage expenses after paying charges. You can choose an interest only EMI for the first three months followed by fixed EMI. This flexible instalment solution can help you to cover heavy expenditures such as buying home appliances and renovating home interiors.
Term Loan Installment
It is a short term loan that can help you manage expenses in the form of fixed EMIs. Each instalment costs you less than paying credit charges. Monthly payments reduce both interest and principal amounts. It allows you to choose the tenure based on the amount needed and your income.
Eligibility Criteria For Renovation Home Loan
Home renovation takes a huge amount from your savings. Not everyone can afford home repairing or revamping.A House owner loan is a cheaper solution than credit cards, where you have to pay 24- 36% interest charges annually. You can take a Personal Loan for Home Renovation to give your abode a much-needed and beautiful makeover. To apply for this unique personal loan, you need to clear all the eligibility criteria mentioned below:-
Eligibility Criteria:
Applicants should be aged between 21 and 60years.
Indian residents are eligible to apply.
You should be a Self-employed or working employee.
Individuals should have a net monthly income of INR 30,000.
Salary Bank account statements of the last 6 months
To know the loan amount, you can take the help of a personal loan eligibility calculator. The calculator will provide you with the final amount and let you avoid loan application rejection.
Documents Required
Home Owner Loan is an unsecured loan that helps you finance the home repairing expenses without denting your savings. The loan will be sanctioned only when you submit the following documents to check your creditworthiness:-
Identity proof: PAN Card, Aadhaar card, Voter's ID Card, driving license, passport, etc.
Address Proof – PAN Card, Aadhaar Card, passport, driving license, etc.
Income Proof – Salary slips or financial statements of your business
Bank statements of the last 6 months to check the cash flow.
After verifying the documents, the LoanTap team will approve Instant Personal loans and disburse the amount in the bank within 24 hours. You get the choice to prepare a budget for the home renovation. Use Personal Loan EMI Calculator to know the exact loan amount and decide the tenure to repay the entire amount.
How To apply For A Personal Loan For Home Renovation
Home Improvement Loans are affordable with easy processing and minimal documentation. LoanTap offers you a simple online loan application to fill out from the website or app. Take a look at the quick steps to apply for Instant Home Owner Loans:-
Step 1:Download the LoanTap or visit the website to log in. Fill out the application with personal, financial, and employment details.
Step 2: Choose the loan amount and tenure as per your income and capacity of paying the monthly instalments.
Step 3: Upload the required documents on the website or submit the signed document to LoanTap's representative.
Step 4: As soon as your loan application is approved, you will receive the money in your bank account within 24 -36 hours.
Your CIBIL score displays your creditworthiness and capability of timely loan repayment. Having a good CIBIL Score can get your quick loan approval at a lower interest rate.
LoanTap is now in your city. Fulfil all your home renovation needs with a few clicks. It is time to install LoanTap App and apply for the loan with ease. You can apply now without thinking twice and upgrade your home without any stress.