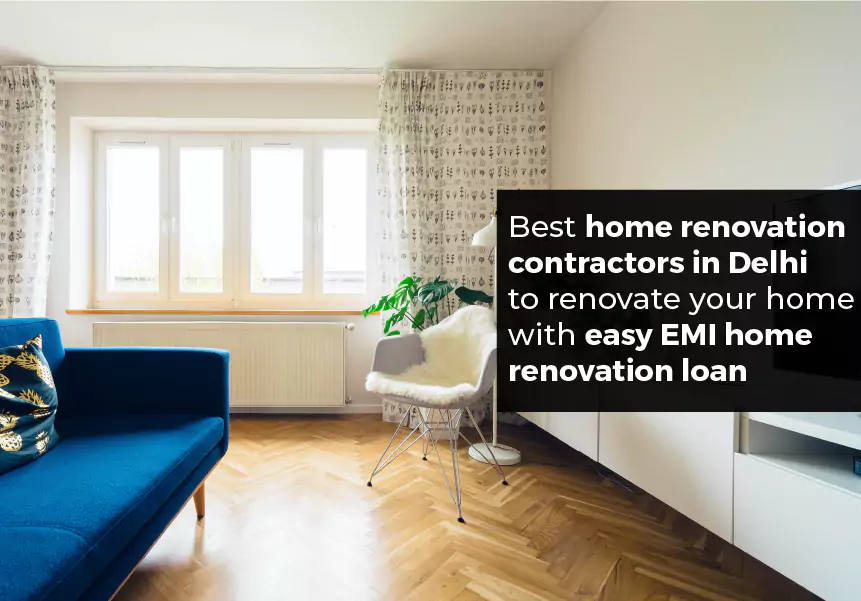 Published on : December 18, 2021
Being able to afford a new house is out of scope for many homeowners. The best thing is often renovating an existing home and making it more liveable. Renovation enhances the aesthetics and increases the value of your home. It will lessen the cost of utility and maintenance. By revamping your house, you can prevent problems and any casualties. It also ensures improvement and safety.
Are you a resident in Delhi and looking for help from renovation contractors? Here is a compiled list of the Best Home Renovation Contractors for you to review and try out.
UrbanXProjects
UrbanXProjects makes you experience new comfort with style at your home. It was started by a team of IITians and industry experts to provide end-to-end renovation and construction solutions. Urban is a young market leader as a consultant in setting up an industrial setup. This idea made them reputed in the industry service segment.
UrbanXProjects started its journey by making specialised furniture to cater to the modern generation.That made them popular among international and national media. The team also got coverage from the renowned magazines. They also established a smart renovation studio to close the gap between them and clients.
Why Choose Them?
Provide cost-effective and convenient renovation services.
Focus on the project transparency and deliver the work on time
Six types of renovation packages are there to choose from for your home.
Offer consultancy before deciding on a renovation plan.
Services: Home/Villa Construction, planning and structuring, plumbing and electrical, flooring, painting, finishing, and interior designing.
Renovationwale
Renovation Wale offers you a complete home and office renovation service. Since 2012, the professional team of Renovationwale has renovated countless houses and offices with excellence, integrity, and passion. They offer home renovation services throughout Delhi, Noida, Gurgram, and Faridabad.
They have highly-trained interior designers and professionals to transform your dreams into reality. They always start with the initial planning by considering the customers' expectations and concerns. They are the best home or office shifting company in Delhi NCR.
Why Choose Them?
Design and execute the entire project at the minimum possible time.
Create a wonderful ambience using imported wallpapers, paints, and woodwork.
Provide full consultation that involves estimating budget, design planning, and quality materials.
Give the best home or office shifting services with the help of moving professionals.
Services: Home and office renovation, building construction, demolition, excavation, strengthening, furnishings, staining, lighting, and painting.
Livspace
Anuj Srivastava and Ramakant Shrivastava, the two college friends, started Livspace in 2014 to provide complete renovation and home interior design solutions. It is the most trusted brand in India, with thousands of happy customers and homeowners. Livspace is a one-stop shop to enjoy end-to-end home design services from designing to installation magazine-like interiors.
Why Choose Them?
Get Budget-friendly solutions for the home.
Access to 45 days move-in guarantees after completing the projects.
Get a free 10-year warranty on the renovation they have done.
Industry Experts will do 146 quality checks to make sure everything is good.
Use only superior technology to build a sturdy home.
Services: Modular furniture & kitchen, customized designs, wardrobe solutions, storage space renovation, budget planning and pricing, vendor management.
Prithu Homes
Prithu Homes are bringing turnkey renovation service to your doorstep. They make the home renovation process hassle-free for homeowners. The common goal is transforming the individual residence into a beautiful and comfortable living space. Home renovation is a stressful process with a lot of concerns. They have become the fastest-growing renovation company dealing in the home building industry.
Nitin Bansal founded Prithu Homes as a residential home development company in 2015. With five years of dedication and passion, he brought his company to the top 10 most trusted builders in Delhi NCR. They have delivered beautiful homes within time. Additionally, they provide you with a budget-friendly and flexible solution to design aesthetic homes.
Why Choose Them ?
Get In-house teams to deliver quality experiences on time.
Keep the time commitment by signing an agreement.
Up to 10 years warranty on all the work done.
Work with technical design, detailing, compliances, and use innovative products.
High-standard materials are used with transparency and are cost-effective.
Services: Turnkey construction solution, plot collaboration in Delhi, Home construction NRI, Builder floors, and home renovation service.
Renovate My Home
Renovatemyhomez.com is one of the best interior design companies in Delhi. They offer a unique platform for sharing your ideas and customizing the design as per your wish. They emphasize creating a space that feels safe and attractive. Renovatemyhomez has transformed homes into beautiful residences. It is also an ISO-certified company as the top interior designer in Delhi.
RenovatemyHomez is a top home renovation service contractor with a core team of professional architects and interior designers. They mainly focus on blending uniqueness with a sophisticated appearance to any home space. Over 20 years of experience, it has delivered masterpieces using turnkey services to more than 1200 happy clients with satisfactory work.
Why Choose Them?
Use Virtual Reality ( VR) for customers to visualize the designs in reality.
Provide branded products and materials with durability and standardization.
No fee charges for any project and sign agreements to avoid money disputes.
Always stick to the deadlines and deliver the projects on time.
Services: Turnkey project, home renovation, designer modular kitchen, interior designing, doorstep renovation service, office interior, and home construction.
BlueCrane
Blue Crane is here to help you with the best interior designing services. They know what customers think and their expectations from a renovation company. Since 2010, Blue Crane Interior Designer Solution has completed over 50 projects throughout India. They help people by designing and renovating homes as per the client's lifestyle, comfort, and budget.
Blue Crane Interior has a team of talented and skilled personnel with years of experience in the field of interior designing. They decorate a house using space planning, functional design, and architects.
Why Choose Them?
Use superior technology for 3D design to visualize reality.
Get you the most branded products and materials with outstanding quality.
Provide best designs with excellence, quality, and honesty.
Available free consultation 24/7 to advise and address your worries.
Offer a reasonable and affordable price for renovating your home.
Services: Modular furniture, renovation, 3D design consultation, commercial design, interior design lighting, architectural design, and commercial renovation.
Points to consider when choosing a renovation contractor
Budget of Renovation
Before talking to any contractor, you should decide the budget for the project. You can find any renovation service provider online that helps you with a good ballpark idea of the cost. Still, the final cost will be based on the quality of materials, how many square feet to cover, the going rate of labour, and contractor fees. By taking an estimate in advance, you can control the budget.
Warranty on Products
Warranties on products should be taken into consideration before hiring a renovation team for your home. A home renovation contractor gives at least a minimum 1-year warranty. Whether a fault occurs before or after the project completion, you can call the contractor to fix the problem. So, it is better to check if the contract gives a warranty on products or not.
Licensure and Credentials
A homeowner must check If the contractor has a license. You should see If the hired contractor has any complaints against them. For building a home, you need to consult the local authority to determine which credentials are required.
Customer Feedback
Before, you only knew about a good contractor through references or family members. But, today, Renovation companies and interior designers have their web presence. You can check their reviews and feedback from past customers. If there is no complaint, ask them for the list of recent clients and consult them.
Once you finalise the renovation contractor and hand over the project, you will know the amount that is required to fund it. Don't stress out if you need more funds. LoanTap offers easy personal loans to meet your immediate needs.
LoanTap offers home renovation personal loans from Rs 50,000-Rs 10,00,000 for periods ranging from six months to five years. Interest rates start at 18%p.a.
Who can take a personal loan?
The process is simple. If you are an Indian citizen or resident over the age of 21 years and earning a net monthly income of Rs 30000, you are eligible for a personal loan.
How to apply for a personal loan?
All you need to do is to go to the LoanTap website and fill out an online application. You will need to upload the following documents.
PAN Card
Aadhaar Card
Salary slips for the last three months
Bank statements for the last six months
The LoanTap team will assess your application. If you have a decent credit score and your papers are in order, your loan will be approved and credited to your account. The entire process will take 24-36 hours. You can pay the loan in convenient EMIs depending on the tenure you choose. You can foreclose the loan after six months without any prepayment penalty. You can pay only interest for the first 3 months and normal EMis thereafter.
You can even get an Income tax relief on the interest paid on the renovation personal loan up to Rs 30,000 under Section 24 of the Income Tax Act. That is yet another reason why you can opt for a Home Renovation personal loan from LoanTap.
Go ahead and recreate your dream home. LoanTap is there to handle your fund needs in the short term. With LoanTap personal loans, life becomes easy.