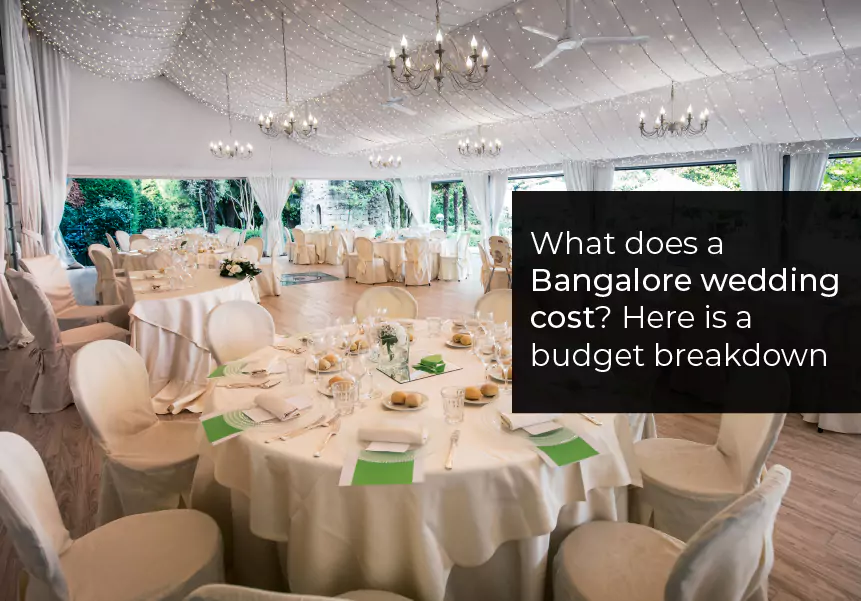 Published on : February 28, 2022
Bangalore is the perfect destination for a wedding. It is not only a hub to the IT industry and commercial trade but also hosts beautiful weddings. From Banquet halls to wedding invitation cards, this city of startups and big companies offers you everything at reasonable prices. Whether you want a destination wedding or a traditional south Indian wedding, Bangalore helps you make your wedding a memorable event.
But, you are not sure how much the wedding cost in Bangalore, right? You want a royal wedding full of different ceremonies and events. In India, weddings are three-day celebrations, and it is a grand affair for couples.
So, while planning the wedding, you must know the wedding costs. People get shocked when they see the wedding bills. Therefore, the wedding budget will give you an idea of ​​where most of your savings have gone for the wedding expenses.
So, today in this blog, we will show you how to break down your budget and some tips to save your savings from getting burned up.
What is the average wedding cost in Bangalore?
No one can tell the exact average cost of a wedding in Bangalore. However, The average cost of a standard Indian-style wedding will be around 15 lakhs to 1 crore, with the average guest count as 500. Therefore, planning the wedding budget can be helpful to avoid financial crunch and stress during the wedding.
This average wedding cost may vary depending on the venue, caterers, no. of guests, and outfits you choose. Before you go ahead, consider some points and break down your budget according to that:-
How much are you likely to spend on the wedding?
Who is contributing from both families?
Make a list of the number of guests you want to invite.
Do you want to hire a wedding planner?
How many events and ceremonies are you going to have?
Factors involved in calculating the cost of a wedding
How to Breakdown your Budget for the Wedding Expenses
Wedding expenses can upset your budget. There may be unforeseen expenses or extra charges that could throw your estimates out of whack. It is best that the budget is calculated after deciding what type of wedding you want. Bangalore offers you the best wedding venues and catering services to make it a grand moment for your family and you.
Here are the main wedding expenses with break down the budget in percentage:
Wedding Venue
Finding a wedding venue is a cumbersome task that fits into your budget. To book a venue, consider some of the points regarding the best wedding venues in Bangalore. These venues should include the following services:-
In-house service providers to handle the events.
Proper Air conditioning and electricity.
Valet Parking facility.
Catering and dining hall services
Bride and groom rooms.
Decorations.
Check the prices based on venue type:
Resorts:- 1 lakh to 50 lakhs per day.
Wedding halls, Kalyana mandapams, banquet halls, convention halls – 75,000 to 25 lakhs per day.
Hotels: 1 lakh to 50 lakh per day.
Barn:- 1 lakh to 10 lakhs per day.
Palace weddings – 10 lakhs to 60 lakhs per day.
Also, try to book the wedding venue based on the guest capacity once you have completed the guest list.
Wedding Catering
Wedding catering takes 25% of your wedding budget. It is the primary factor that also depends on the guest count. Most caterers charge per plate price ranging from Rs. 150 – Rs. 700 per plate. Be it 500 or 1000 guests, the price will remain the same.
Catering Service included the different cuisines, the number of ceremonies, and food serving. The Catering price depends on the number of extra items, how many starters, main course, and desserts. Check the prices:-
Food trucks or live counters charge per plate – Rs. 700- Rs. 1000.
Banana leaf meal price – Rs. 250 – Rs. 800 per leaf
Buffet meal price. 250 – Rs. 1250 per plate.
The wedding catering price will cost you around 2 lakhs to 5 lakhs.
Wedding Photography
As per the trends, Couples are ready to pay hefty prices to wedding photographers to capture their lifetime memories. From pre-wedding photoshoots to post-wedding photoshoots, couples have many options to go for and ask photographers to capture every memory innovatively and creatively.
Basic Services included:
Pre-wedding photoshoot,
Wedding photoshoot,
Traditional Videography,
Cinematic Videography,
Post-wedding photoshoot.
Here is a full cost breakdown:
Traditional Wedding photography – Rs. 20,000 to Rs. 40,000 per session
Traditional videography – Rs. 20,000 to Rs. 40,000
Cinematic Videography – Rs. 60,000 to Rs. 80,000
Drone photo and video shoot – Rs. 80,000 to Rs. 1 lakh
The price depends on the number of sessions you have. The average cost of wedding photography can be between Rs. 1 lakh to Rs. 3 lakhs.
Wedding Outfits and Jewelry
Weddings are the festivals for the celebration of the union of two souls. On this occasion, Bride and Groom want to look the best, also for different ceremonies they require different outfits. Here are the outfit prices to include in the budget:-
Bride Outfits Price: 20,000 – INR 2 lakhs ( lehenga, saree, gowns, suits, etc.)
Groom Outfits: INR 10,000 – 1 lakhs. ( Sherwani, pantsuits, and Kurta Pajama)
Wedding Jewelry is usually expensive and can increase the cost. Indian parents start investing money to buy wedding jewellery when the child was born. It saves time and money also. Here's the breakup of all the jewellery for both bride and groom:
Mangalsutra: Rs. 20,000 – Rs. 1 lakh
Necklace: Rs. 50,000 – Rs. 10 lakhs
Long-chain: Rs. 40,000 – Rs. 4 lakhs
Earrings: Rs. 30,000 – Rs. 3 lakhs
Finger ring: Rs. 20,000 – Rs. 1 lakh
Maang tikka: Rs. 30,000 – Rs. 1 lakh
Bangle: Rs. 1 lakh – Rs. 5 lakhs
Bracelet: Rs. 50,000 – Rs. 1 lakh
Armlet: Rs. 50,000 – Rs. 3 lakh
The overall cost can be in the range of 3 lakhs to 1 crore.
Wedding Decoration
Wedding decoration also increases the cost. Some occasions need different sets and decor, which are engagement ceremony, Haldi ceremony, Sangeet ceremony, wedding reception, etc. Here's the breakdown –
Flower decoration: Rs. 10,000 to Rs, 15,000
Stage decoration: Rs. 20,000 to Rs. 75,000
Entrance decoration: Rs. 15,000 to Rs. 20,000
Shamiyana (tent house): Rs. 10,000 to Rs. 30,000
Chair decoration: Rs. 5,000 to Rs. 30,000
Sangeet stage decoration: Rs. 15,000 to Rs. 50,000
Other Miscellaneous Costs
Some of the other areas of expenditure include:-
Bridal makeup: Rs. 10,000 to Rs. 50,000
Saree draping: Rs. 1,000 to Rs. 3,000
Hairstyling: Rs 1,000 to 5,000
Salon services: Rs 25,000 onwards
Finance your wedding with Marriage Loans in India
Now, you know how to break down your budget and the cost involved in making your wedding successful. But, you need a sufficient amount to meet your expectations. The average middle-class wedding cost in India is above INR 10 lakhs.
Along with this, you should have enough funds to make your dream wedding a reality. However, sometimes, you may have a shortage of funds while preparing for the wedding. Here the Marriage Loan from LoanTap can help you to fulfil your financial needs.
How to Apply for a Wedding Loan?
Filling the Online Application to get the loan by visiting the LoanTap website or installing an app from Google Play Store.
Uploading the basic documents to verify your profile and identification.
Decide the repayment tenure between 6 months to 60 months depending on your capacity.
Check the loan instalment options at your convenience.
Wait for the loan disbursal to credit your amount in less than 24 hours.
Use the loan amount for venue booking, caterers, decorators, jewellery shopping, etc, with ease.
Eligibility Criteria to qualify for the Wedding loan application:
Applicants should be aged between 21 -60 years for salaried employees
The applicant should have a minimum net monthly income of INR 30,000.
Decent CIBIL score at least between 680-730
Applicants should have valid proof of identification, residence, and age.
Bank statements of the last 6 months
Salary slips of last three months or last 2 years' IT Return
At LoanTap, personal loans are offered to range from INR 50,000 to 10 lakh as per your financial profile. It is a much cheaper option than credit cards. If your documents are valid and your credit score is good we will activate instant disbursal in 24–36 hours. The loan application process is also simple and transparent with no prepayment charge or foreclosure charges post 6 months. Apply now for Instant Personal loans online to make your wedding an unforgettable event. Get a wedding loan from LoanTap and make your wedding a momentous occasion. For details click on https://loantap.in/ .