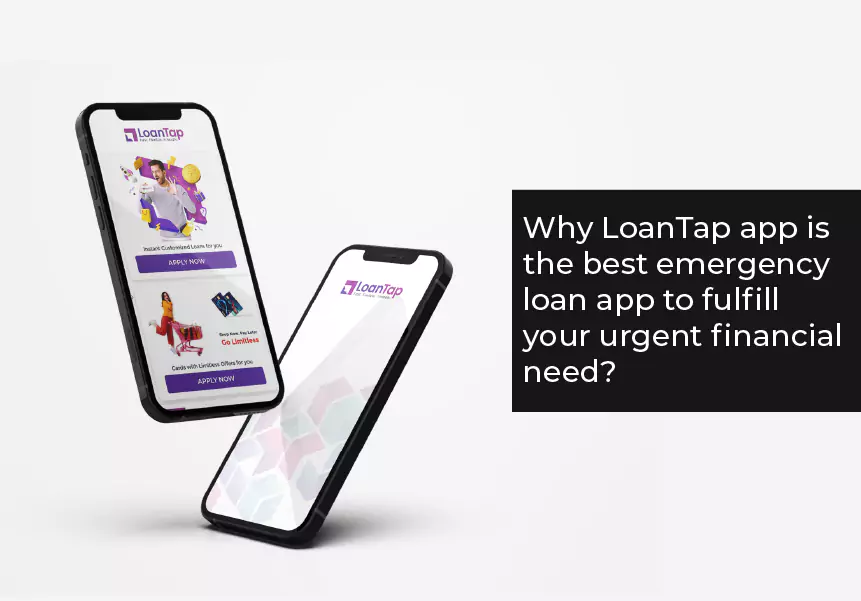 Published on : May 27, 2022
Living a modern lifestyle is a burden on your wallet. With rising prices on goods and services, it is hard for salaried professionals to sustain on salary only. Financial emergencies can come without a warning. It is necessary to have enough money to handle unexpected expenses.
Whether it is a medical emergency or credit bills, an emergency loan can rescue you from this cycle of debts. But, you are worried about the long process of getting personal loans. You don't want to go through numerous paperwork and wait for the approval for more than a week.
You need an emergency loan to get the treatment fast in medical emergencies. There is no time left to go here and there to arrange funds. Unlike other NBFCs, LoanTap provides you with an instant personal loan, where borrowers will get immediate funds in 24 hours.
What is an Emergency Personal Loan?
An emergency personal loan is a way to get instant cash in your bank account. It reduces the burden of waiting for money. Also, borrowers will avail of the emergency loan by following a quick loan application process.
An instant Emergency Loan is a reliable and convenient way to cover unplanned expenses. Salaried or working employees with a steady income can pay the bills without relying on family or friends.
LoanTap's Emergency Personal Loan
Choosing the right lender is a complicated task for a borrower. Some lenders offer loans with higher interest rates. It can create a pile of debt when borrowers cannot pay off all the loan amounts.
Quick Disbursal: You want a loan as quickly as possible. A personal loan offers the loan amount within 24-36 hours, making it useful for borrowers in need of urgent funds. You can apply for the loan online while sitting in a chair at home. If you have a good repayment history and credit score, we will disburse the cash in a few hours with no hassle.
100% Secure: The whole process is online and flexible to access. However, the primary concern of taking a personal loan online is security. LoanTap is the most trusted platform that provides secure and fast loan procedures for borrowers. We will keep the personal and bank details safe and encrypted.
Minimal Documentation: This unsecured personal loan provides the amount with minimum effort and a paperless loan process. Borrowers need to upload documents, including Aadhar Card, Driving license, payslips, etc.
Pocket Friendly: LoanTap provides a user-friendly mobile application to get any financial products. You can apply for loans on your phone at your fingertips. As long as you meet all the eligibility criteria, we will approve the loan instantly.
Why choose LoanTap for Emergency Personal Loan?
At LoanTap, we believe in availing of a personal loan with a simple procedure. You can visit our website or download the Android app to get the fastest loan disbursal. Here are some other standout benefits of taking emergency loans from LoanTap:
Sufficient Loan Amount: LoanTap allows you to borrow the loan amount between INR 50,000 and INR 10,00,000. You can enter the amount required to fulfil your financial need.
Flexible Repayment Term: Paying off the loan each month makes you feel burdened. LoanTap understands the needs of customers and their struggle with managing expenses. So, we have reduced the monthly repayment for the first three months, followed by fixed EMIs. It provides flexibility to the borrowers to manage repayments.
Affordable Interest Rates: The monthly repayments increase due to interest rates on the principal outstanding. LoanTap offers the loan at lower interest rates, starting at just 1.5% per month. Borrowers don't have to compromise on monthly expenses anymore and can manage their cash flows better.
Loans for Low Credit Score: Credit score plays a vital role in getting any personal loan online. Your credibility speeds up the process of loan approval. But, because of some reasons, borrowers may have a lower credit score. They will face issues in getting any financial product. At LoanTap, you can get a loan with a credit score of 580-630 or above.
No Collateral Required: Essentially, a personal loan is a collateral-free loan, which explains everything to you. Borrowers do not need to submit to any collateral or guarantor. LoanTap will be ready to lend to you if you meet the eligibility criteria and have completed the document verification satisfactorily.
Get Three Customized Options to Make Repayments Easier
EMI Free
This repayment option allows you to pay Interest-only every month. It is coupled with Bullet Payment every 3/6 months towards the principal. Using this repayment option, borrowers pay 40% less than regular EMI. It is ideal for borrowers who receive a bonus or an incentive every 3 or 6 months.
Step Up
This Step-up loan allows you to pay Interest-only for three months, followed by fixed EMI. It helps you to manage other expenses post an event. This customized loan option is best suited when you have heavy expenditures to pay.
Term Loan
Borrowers can choose this term option to repay in Fixed EMI, where EMI = Principal + Interest. Each payment reduces both interest and principal amounts. It is a perfect option when you know the exact Loan Amount.
Personal Loan Overdraft Facility
Borrowers can use this option when they don't require the loan amount all at once but will be spending over a period of time. If they get a personal loan overdraft facility approved they can be charged interest based on the actual usage.
Are you eligible for an Emergency Loan?
After learning so much about the Emergency loan and how easy to get this, you are now curious about your eligibility for this personal loan. So, check out the following eligibility criteria to get an emergency loan in India:
You should be above or 21 years of age.
You must be an Indian citizen or resident
Your net monthly salary should be over INR 30,000/-
You must be a full-time salaried employee.
After qualifying for the loan, make sure you have the basic documents for KYC documents. Here is the list of required documents, which are:
Identification Proof: Applicants should have a Voter ID / Passport / Driving License / Aadhaar Card
Address Proof: Applicants should have a Ration Card / Electricity Bill / Passport.
Income proof: As a salaried person should have at least three months' salary slips. You will need to provide proof of income for three or six months if you are self-employed.
If you have all these documents, you can apply for a personal loan from the LoanTap website or mobile app. Want to know how to apply? Scroll down below!
How to Apply for Emergency Loan from LoanTap?
With LoanTap, the loan process is seamless and efficient. It takes just a few clicks to get online personal loans. So, follow the steps to get a personal loan for urgent needs:
Install the LoanTap app from Google Play Store or visit the page https://LoanTap.in/apply to apply online.
Fill out the loan application with the basic details, employer details, and bank information
Enter how much amount you want and set the desired tenure.
Submit the basic documents or mail them to the team directly.
Once you complete the KYC, the loan will be approved.
Summing Up!
LoanTap has been on a mission to offer financial help in a simpler and smarter way. That's why we provide fast access to funding options. We offer a stress-free and seamless experience. Also, there is no platform like us, where you get a wide range of financial products to cover urgent expenses. It is not the time to wait! Visit the site to apply now!