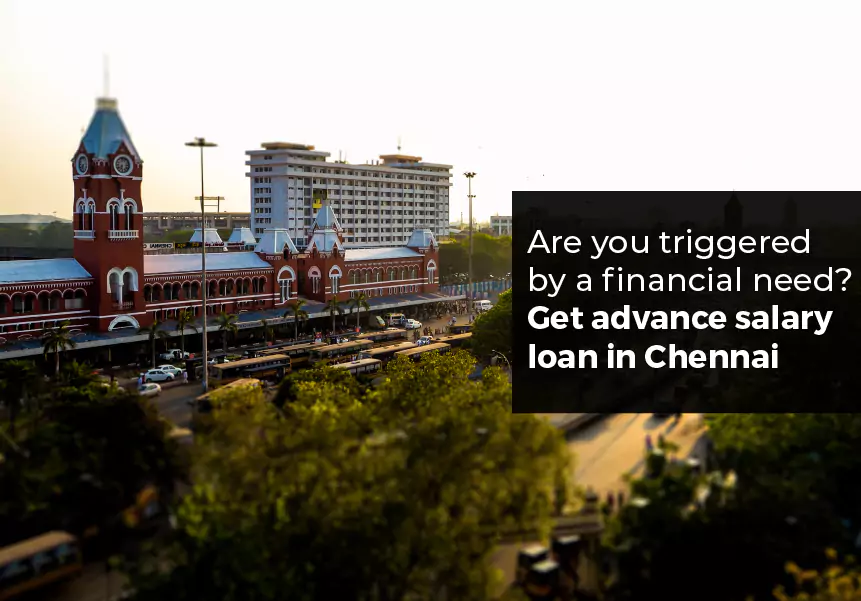 Published on : March 04, 2022
Chennai is known as the economic powerhouse of India. This metropolitan city is a centre of IT companies, automobile industries, healthcare, manufacturing, etc. Chennai has been given the nickname of 'Detroit of India'.
Living in Chennai can be an expensive affair. It requires a strong financial background to manage the monthly budget comfortably. Salaried professionals may face a cash crunch in the middle of the month because of unexpected expenses. Sometimes, it is difficult to manage emergencies, credit card bills, hospital bills, etc. In such situations, an Advance Salary Loan in Chennai will be an affordable solution.
Salary Loan – An Easy Financing Option
Despite planning the monthly expenses to keep your salary intact still, you might face financial shortfalls before the month ends. To recover from the scarcity of funds, you can apply for the salary advance loan in Madras. It is essentially an unsecured financial product that allows individuals to sustain any financial crisis. The loan amount will be credited to your bank account to manage your monthly cash crunch. It will help you feel relieved and manage your expenses better.
Features of getting Salary Advance Loan in Chennai
Salary Loans is a short-term loan with instant funds available up to 2.5% of your net monthly salary. It offers you an opportunity to clear all your bills and debts in just a single payment. In this way, you can spare your savings by handling heavy expenditure. Here are the best features of an online salary loan :
High Loan Amount: Advance loans in Chennai is a short-term loan that offers you a loan amount between INR 25,000 – INR 1,00,000 over a flexible tenure. You can withdraw any minimum amount as much as you want, with no worry about flexible repayments.
Flexible Tenure: Getting a loan makes you stressed when you have to pay off the loan amount. With the salary loan, you can decide the tenure as per your capacity, between 3 months to 12 months.
Lower Interest Rates: Personal Loans are a much cheaper option than credit cards. It is available at an interest of 1.5% – 2% monthly compared to credit card interest of 3-4% on the outstanding loan balance.
Processing Fees: The team will take a processing fee of Rs 2500 + GST for loans up to Rs 50,000 and a Rs 5,000 + GST processing fee to credit the number of Rs 50,000 or above.
Other factors to understand – why to go for Advance Loan
This Instant Salary Loan can help you cover unforeseen expenses stress-free. It will save you from the embarrassment of asking for money from family and friends. Also, if you still doubt why you should choose salary advance loans to rescue from short-term financial burdens, here are the reasons:-
No Need to fill out many Forms: For Salary Loans, you need only a few documents to verify your details. Fintech lenders like LoanTap will collect the required documentation to approve the application. If the documents are not valid or legal, they could reject the application as well.
Same Day Approvals: This instant Salary loan offers you a quick, inexpensive and simple loan application process. If your application matches all the parameters, your loan will be get activated instantly.
Fast Online Process: You can get instant cash in just a few clicks. It is easy to get the loan online through an easy process, where you need to create a profile and upload some documents. It is a 100% online process.
No Need for Collateral: Personal loan is essentially an unsecured loan with a small amount. So, Borrowers will not have to offer assets as a mortgage against the loan amount. No person will ask you to exchange your possessions for any personal loan.
Customized Installment Options: Paying off is also a burden for the Borrowers. Getting salary loans will give you the benefits of flexible repayments. So, you can repay the salary advance loans as EMIs. You can also choose to pay off in a single instalment if you wish to.
Reasons to get the Salary loans in Chennai
In difficult times, you can use Advance loans for various purposes. You can use the advance salary loan for any legal purpose. Here is the list for what you might need money. If you:
Have to upgrade the look of your home or repair the old-fashioned ambience.
Are facing some medical emergencies where your family members or you fall sick.
Require to renovate your home by installing home appliances and improving the home design to make it new.
Need to book flight tickets for travel due to some medical emergency or family urgency.
Are looking for extra cash to pay the education fee on time, or enrol for any course before the deadline.
Are planning to go on a holiday trip, but you are short of funds.
Are purchasing an expensive gift for your spouse or buying a new gadget to surprise them.
Are in the middle of a financial crisis to pay the credit bills or other payments.
While filling out an online loan application, you can mention the reason to get the loan amount quickly. Getting salary loans will help save your savings and reduce stress when there is an emergency.
Step-by-Step Guide to Apply for the Advance Salary Loan
As we have discussed, getting an Advance Salary loan is easy with a few documents. You need to fill out an application to get an instant debt loan online. Here is the step-by-step guide to ease your loan application process.
Install the LoanTap app from Google Play Store or visit the page https://LoanTap.in/apply to apply online.
Create your loan application by entering your personal information, professional details, and bank details.
Submit the basic documents, including PAN, Address proof, 3 months' payslips and 6 months' salary account bank statement
Wait for the verification of the documents and the response from the LoanTap team.
Once the KYC is done, the loan will be approved with other credit checks on the same day.
As soon as you match all the parameters, the loan amount will be credited to your account. You can withdraw as much as you need to fulfill your financial needs. It will keep you financially disciplined and keep the credit history healthy.
Wrapping up
An emergency can pop up without warning. The salary loan can help you handle financial needs without any hassle. Manage your short term fund requirements with an Advance Salary Loan without letting the pressure get to you.
LoanTap has a quick, efficient, paperless and seamless process to provide tailored personal loans to meet your funding needs. If you can get your funds in 24 hours whenever the need arises, you can relax a bit, can't you?
Use the LoanTap Salary Advance loan to manage your month-end cash crunch in an expensive city like Chennai. It will help you relieve your stress and worries. Whatever your financial needs are, you can apply for the loan in just a few clicks. Download the LoanTap app today.