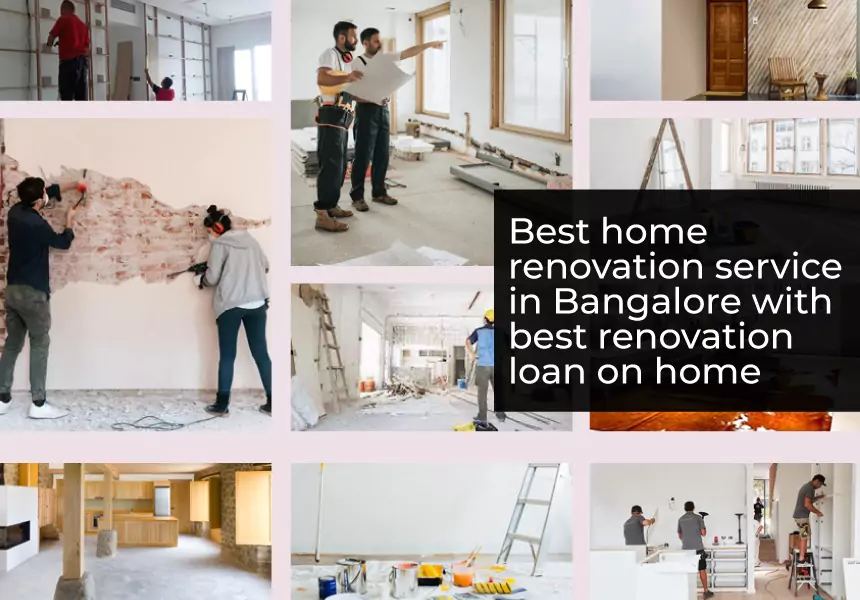 Published on : December 06, 2021
Whether you get bored of the same old-style home or plan to sell the house to buy a new one, chances are there will be a renovation project in the future. You have to consider a lot of factors to find a renovation contractor. If you are searching for the Best Home Renovation Service in Bangalore, here is a list of the Best 5 Renovation Companies in Bangalore that can become your renovation partner and save you the cost of moving. Let's look at why it's always cheaper to renovate than buy a new house. Here are some reasons.
Why should you renovate your home?
Comfort and Styles
Home Sweet Home is not only an idiom. It shows how much we cherish our home. A house is the most prized possession and comfortable abode for everyone. Your home is the constant haven in all the seasons. It protects and embraces you with warmth. But as you look at your old house, it degrades with each passing year. Now, you are living a modern lifestyle. Your needs and tastes have also changed. Whenever you look at outdated style, it makes you uncomfortable. Some of the home stuff looks irrelevant and impractical to be there. Renovation brings modernity with comfort. It also makes your home more convenient and practical to live in.
Fix the Safety Issues
Old houses don't have many safety measures which are considered important in modern times. Even a crack in the wall can raise a serious problem. Renovation can prevent your home from any catastrophic situation. You can call any professional to repair older electrical fittings or install security appliances at yours. It is not a luxury but a necessity for family safety.
Lower Resale Value
Are you selling your house? It is better to renovate your old house. But, why? With the renovation, you can make a profitable investment for better returns. Before you put a sale label, your modern home should have the latest fittings, repaired worn-out amenities, and stylish interiors to enhance its authenticity. It will also attract more buyers and give a better value to the deal. Nobody likes to handle the complaints from buyers that the house was in bad condition or they wasted money on something not valuable. Investing in renovation gives you better returns than selling without renovation.
Update the functionality
If your house has old installed electronics, closets, or wardrobes which provide less space and functionality, it is time for a complete revamp. Renovation may create more space by designing new closets or rooms. You can upgrade the home functions by installing energy-efficient electronics items that match your busy lifestyle and save the cost of electricity bills. Renovation not only raises the value of your home but brings aesthetic elegance. It is the best option to replace the lost charm of your home.
Top Home Renovation Services in Bangalore
Home Renovation can transform the look and feel of your home. By upscaling the style or furnishing the wooden floor, these changes can create a cosy and welcoming atmosphere at your home. It will give a more lively look. Are you a Bangalore resident or have an empty house there? If you are searching for professional help for home makeover solutions, you should look at the best home renovation services in Bangalore.
Are you confused about which renovation company you should hire for your house interiors? Here, only one name comes to the mind of the Bangalore people, Ace interior. It is the leading interior designer and renovation company in Bangalore. Their mission is to create living spaces that reflect individual tastes and styles.
Since 2009, Ace interiors has been a reputed brand in providing turnkey interior services and high-grade design facilities to meet client needs. The core team of Ace Interiors follows a sustainable and comprehensive approach to conceptualize what you want, design what you see, and execute what you feel.
Services they offer
Residential makeover
Office interiors
Lighting
Flooring
Home Renovations
Furniture Design
Your abode reflects the lifestyle you are living. It is a space where you can be true to yourself. SVE group is the most trusted name in the renovation and construction industry in Bangalore. This group has over 15 years of experience providing residential and commercial construction services in Bangalore.
You will get highly trained and professional staff to execute tasks with efficiency. They focus on quality, reliability, and trust with hassle-free planning solutions for customers and complete projects on time. They offer 90 days service warranty for all the projects and the highest quality standard to meet all expectations.
Services they offer:
Home Construction
Renovation Service
Interior Design
Flooring & Tiling work
Electrical Work
Plumbing Contractor
Water Proofing
UPVC Window Work
False Ceiling Work
Livspace offers a one-stop destination to provide end-to-end renovation solutions from design to installation. They provide high-quality and budget-friendly modular solutions to renovate your home. Livspace was founded by two college friends, Anuj Srivastav and Ramakant Sharma, 2014. Since then, Livspace has offered a happy experience to countless homeowners with complete home renovation service.
At Livspace, they give you Budget-friendly solutions for the home. It provides access to 45 days move-in guarantees after completing the projects. Even, they get you a free 10-year warranty on the renovation they have done. Their industry Experts will do 146 quality checks to make sure everything is good. Use only superior technology to build a sturdy home.
Services they Offer:
Modular furniture
Custom Kitchen
Customized designs
Wardrobe solutions
Storage space renovation
Budget planning and pricing
Vendor management.
Superior quality cabinets
Bored with the same bed or colour on the wall, the boring arrangement in the living rooms makes you think you need a new home? 100Krafts is an interior solution platform for homeowners looking for experienced designers and constructors to understand their actual needs. They prefer a thematic format to design and use even small spaces with smart solutions.
The core team will approach you with six scientific steps to strengthen the aesthetics and functionality of your home. They work on three key points: Efficiency, Cost-effectiveness and Execution. They assign a project management team to deliver execution solutions using tools and Virtual Design technologies.
Services They Offer:
Interior Design Consultation
Interior Executions
Renovation Solution
Decor and Furnishing
Virtual Design Service
Customer Enquiry
Theme based solutions
Are you looking for a renovation company in Bangalore at affordable rates? Home Under Budget is the right choice for you. They recreate home with budget-friendly packages and customize them as per your preferences. They assure you a beautiful home after transforming your dream into reality. Their dedicated team focuses on the common goals of Renovating Your Life by offering the lowest prices always.
With the idea of affordable home makeovers, they closed the gap between customers and interior designers. Home Under Budget is the most affordable interior designer in Bangalore. They make interior designing and renovation hassle-free tasks without compromising quality and time commitment. You will get a 6-year warranty on the project and finish work within 50 days.
Services they offer:
Budget Residential Interiors
Commercial Interiors
Architectural Designs
Retail & QSR Design
Event Spaces and Stalls
Garden and Landscapes
Home Buying Consultation
Home Renovations
Customize Furniture
Project Management
Space Makeover
Affordable Housing
Whatever transformations you want for your home, the above-mentioned home renovation service providers can help you. Hopefully, you will find a suitable one that matches your requirements.
LoanTap offers you home renovation loans so that you can recreate the dream house you always aspired for. LoanTap provides personal loans for home renovation from Rs 50,000- Rs 10,00,000 for time frames ranging from six months to five years at interest rates starting from 18%p.a.
All you need to do is visit the LoanTap website, fill up an online application and upload the following documents-
PAN Card
Aadhaar Card/Driving Licence/Passport
Salary slips for the last three months
Bank statements for the last six months
Once this is done, you can wait for the LoanTap team to evaluate the application, approve it and transfer the funds to your account. You can repay the loan using any of the flexible repayment options. You can choose to pay interest only EMI for the first three months and switch to normal EMIs after that. You can also opt for an overdraft where you pay interest only on the amount actually withdrawn. You can even look at an interest-only EMI where you can repay the principal in bullet payments on a quarterly or half-yearly basis.
LoanTap understands your need to convert your dreams into reality and holds your hand when you need funds. To know more you can visit our website and we will be happy to help.