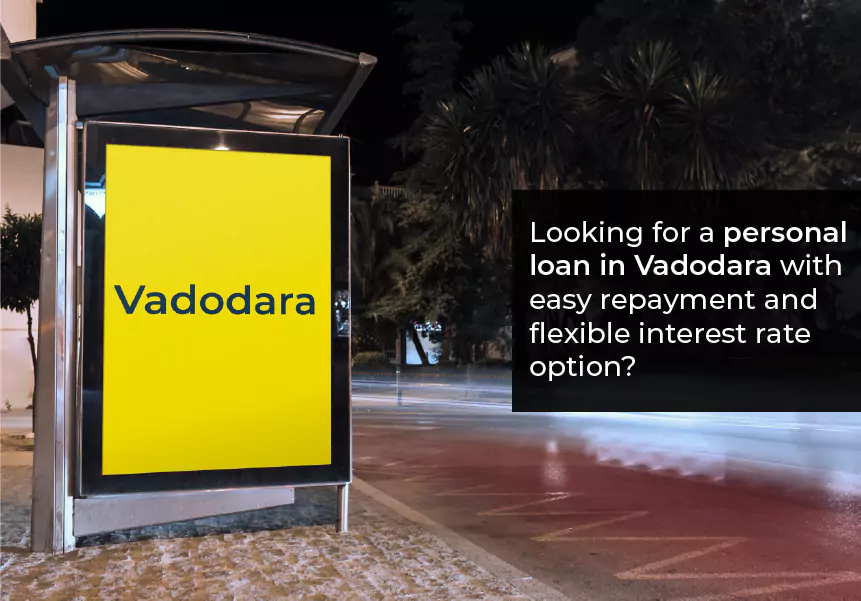 Published on : May 02, 2022
Vadodara is the third-largest city in Gujarat. It is ‌located on the Vishwamitri River. This beautiful city is a hub of ancient places, such as Laxmi Vilas Palace. It has some old markets that make Vadodara more ethnic and interesting. Along with the economy, many industries are booming in Vadodara, such as petrochemical, engineering, pharmaceuticals, IT and foreign exchange industries.
 The average cost of living in Vadodara is a little high. As a salaried individual, it is difficult to enjoy a modern lifestyle when you face unexpected expenses. If you have utility bills, medical expenses, and credit card bills, your monthly budget gets exhausted by paying all of them.  
Don't worry! Personal loans are here to rescue you from a huge pile of debt. This financial solution can take care of all your financial needs. At LoanTap, you will get customized personal loans at affordable rates.
In this article, I will share the guide about personal loans in Vadodara and the benefits of availing of the loan.
Why LoanTap for Instant Loan in Vadodara?
LoanTap offers personal loans to fulfill your immediate financial needs. You can apply for a personal loan up to INR 50,000 to INR 10,00,000. You can repay the amount in the tenure from 6 months to 60 months. The whole loan application process is 100% online, where you have to fill out your application and submit it for evaluation. If you match all the parameters, your loan application will be approved on the same day. The loan amount will be disbursed in your bank account within a few hours. 
Advantages of taking Personal Loans
Personal loans online are a popular financing option among individual customers. It is an unsecured loan and does not need any collateral. It is a convenient type of loan. Online personal loans offer you a variety of advantages. Here is the detailed list of personal benefits:
Adequate Loan Amount: You can get instant personal loans up to 10 lacs. With this high loan amount, you can tackle unplanned expenses, like medical bills or sudden travel expenses. You don't need to spend your savings or ask for money from friends and family. 
Flexible Tenure: Monthly payments can cause a headache. But personal loans from LoanTap will help you with flexible repayment tenure. It allows you to pay off the amount in easy EMI across a flexible period. You can decide the tenure as per your financial capacity. But, it should be between 6 months to 60 months.
Easy Loan Application: Getting a loan is now a simpler process. It will only take some minutes to complete your online loan application. Either you can visit the site or download the LoanTap app to submit your application.
 Minimal Documentation Requirement: One of the biggest advantages is that you don't have to juggle with paperwork. You can avail of personal loans with just a few documents, including a PAN card, Aadhar card, electricity bill, and bank statements to check your financial position.
Quick Loan Disbursal: If you have a decent credit score, the LoanTap team will disburse the loan within 24 hours. Your application will get the same day's approval if your documents are correct. Also, this speedy loan disbursal can help you in an emergency and tackle the expenses hassle-free. 
Affordable Interest Rate: Lower interest rates are levied on personal loans from LoanTap. You need not worry about exorbitant rates eating your savings. Because interest rates on our loans start at 18% per annum.
Benefits of Personal Loan for Salaried Professionals
You can use personal loans for a variety of purposes, which is one of their biggest benefits. But the reason should be productive. If you spend a personal loan for non-productive reasons, it will harm your credit score. Here are the other benefits you will get:
You can pay multiple credit card debts and high-interest rates on other secured loans. It will help you consolidate all the charges and clear your repayment history. Online personal loans offer you funds with lower interest rates, which means you can easily pay off the loan amount without compromising your lifestyle.
Personal loans are designed for borrowers who struggle with financial issues. It works best for working professionals with a steady income. They can use it for various purposes, including funding a vacation, purchasing an expensive gadget, repaying other borrowings, or even paying for your wedding costs.
With personal loans, you can ‌ save on tax. But that also depends on your purpose of taking a personal loan in India. If you want a personal loan for medical expenses, home renovation, or children's higher education, you can use the relevant reasons to claim tax benefits.
Customized Repayment Options
Repaying a personal loan is now easy for millennials. At LoanTap, personal loans come with four customized repayment solutions. It allows borrowers to choose a convenient option to repay the loan on time. So, you can tackle the situation without running around arranging funds.
Required Documents for Personal Loans through App
Identification Proof: Applicants should have a Voter ID / Passport / Driving License / Aadhaar Card
Address Proof: Applicants should have a Ration Card / Electricity Bill / Passport.
Income proof: As a salaried person should have at least three months' salary slips. For self-employed, there is a need to submit three or six months of income proof.
How can you get a Personal Loan in 24 hours?
Whether professional working or an entrepreneur, these personal loans in Vadodara can help to meet all the financial requirements arising in your day-to-day life. You can apply for the loan in a few simple steps. Check out the following step-by-step guide to get the loan instantly.
Step 1: Visit https://loantap.in/or install the LoanTap app from the Google play store.
Step 2: Create your profile by entering the required details, such as professional, company name, and type of occupation.
Step 3: Once you have filled out the application form, upload the required documents to verify your profile.
Step 4: Once the KYC is done, wait for the response from the LoanTap team.
Step 5: With the application verification, your loan will be approved on the same day and credited to your account.
As soon as you get the amount, the team will send you an approval to the email address. You can use the amount disbursed as per your needs.
So, are you Eligible for Personal Loans?
Get fast disbursement of your loan by applying online at LoanTap. Simply upload your documents and complete your profile. To get fast approval, ‌check your eligibility first. Here are the following conditions you need to qualify:
1. You should be an Indian citizen or a resident.
2. The age of an applicant should be between 21-58 years.
4. Salaried, self-employed, or business owners should have a steady net monthly income of INR 30,000/-.
5. You should have stable employment.
6. Your credit history should be decent and your CIBIL score must be 580-630 or above.
To Sum Up!
Hopefully, you get answers to all your questions from this article. LoanTap will assist you in all financial emergencies. We understand our customers' needs and provide speedy funding. Our team always works to cater to the customer's requirements. It is the right time to log in to the website and apply for the loan.