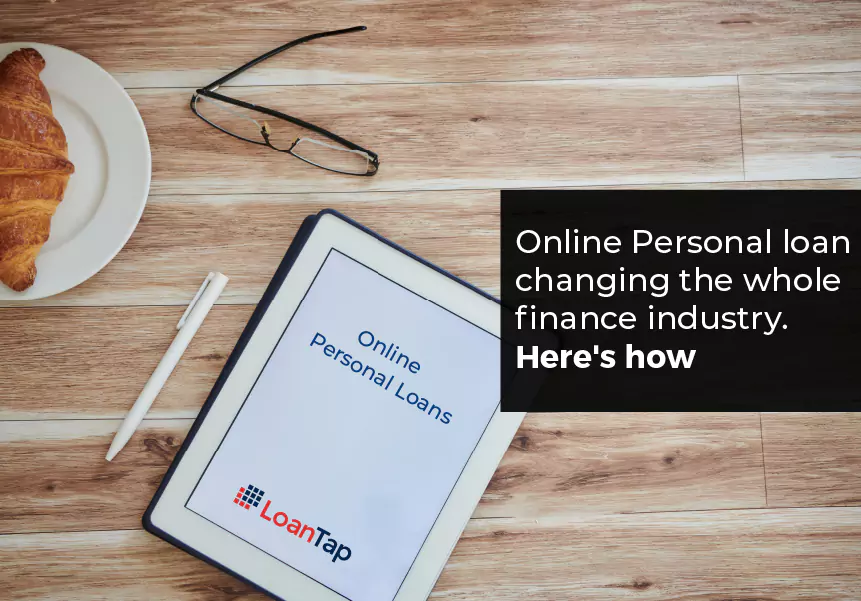 Published on : January 10, 2022
The financial technology industry has developed at a fast pace over the last decade across the globe. This impact has been reflected in India as well, as many big companies fund their money in developing products and services suitable to this financial sector. As per the current statistical survey from The Times of India, it has been estimated that the outstanding portfolio of personal loans has increased about 48% in one financial year, from INR 26700 crore in March 2019 to INR 39700 crore in March 2020.
If you have applied for getting a loan a couple of decades ago, you would know the amount of paperwork and time utilized for loan approval. The number of forms that have to be filled out, the number of attested photocopies that have to be attached, and the multiple visits to the lender made it a long, cumbersome and tedious process. In the last few years, with the inception of digital technology, the fintech industry has been changed radically. Access to a smartphone has made it easier to apply for a loan today.
Before the advent of smartphones, the banks and NBFCs mostly focused on the metros and the tier 1 cities leaving a huge majority of the population untracked. The cost of lending was quite high due to the high overheads expenses including setting up a physical office, hiring staff. Verification and approval of applications took several days because of the huge physical effort required.
Today digital technology has entirely revolutionized the way we lend and borrow money from the bank. Well-established and reputed lenders like banks and NBFCs have created an online presence, the fintech companies have set up websites, portals, and smartphone apps and thus taking the loan process to a whole new level.
The time taken to approve a personal loan from the submission of application has been reduced significantly to just 24-36 hours from 10-15 days a couple of decades ago. The load of paperwork has been completely removed and replaced by online applications and upload of documents. The process of photocopying has also been eliminated.
The physical process of authenticating the credit score to approve an application has been replaced by an API which has lessened the turnaround time to minutes. Online lenders have invaded the heart of the country and approached each individual who has access to a smartphone. As of now, India has over 700 million internet users and over 600 million smartphone users. Today, personal loans are the most favoured financing option available. Let us describe the features of a personal loan and you will understand that it is indeed a customer-friendly product.
What are online personal loans?
Personal loans are small ticket-size loans, which are accessible at competitive rates and can be easily transferred to your bank account. It is usually in the form of credit with a shorter repayment period. Many microfinance companies are indulged in this activity to offer loans to people for all kinds of their needs. All of these finance companies have a mobile application or a web portal through which you can easily try to access the funds by applying for a loan.
The shift in the pattern
The advent of online personal loans has motivated many people to access shorter cash credits as much as possible. Before the evolution of the internet, smartphones, and technology, applying for a smaller loan from any reputed bank was a tedious task. But now the entire process of loan sanction has been changed, making it pretty easier to apply for loans online. Here we highlighted some of the following advantages of accessing online personal loans:
•Simple Eligibility Criteria: Most online personal loan companies have simple eligibility criteria for loan approval. This makes it easy for a large group of people to apply for small-ticket loans. However, you must have a very great credit score for accessing this type of loan.
•Less Paperwork to Paperless Transactions: Most of these companies provide an easy documentation process with the help of mobile apps and electronic uploads. This means there is no need to visit any bank or office physically and your loan will get approved by sitting at home.
•You Do Not Need Financial Collateral: If you are a working professional who needs to pay for service before the next paycheck, you can easily avail of these loans since the credit period is shorter. Also, you do not need to show any assets as your security for loan approval.
•Faster document processing: The documents and the loan application get processed within a few minutes and your loan amount will be reflected in your bank account within 24 hours of application if your credit score is strong. The process begins once you fulfil the eligibility criteria and ends with the loan amount required for disbursal.
•The Loan Amount can be disbursed quickly: You have to provide your banking details along with the IFSC, account number, etc. and the entire loan amount will be reflected in your bank account. In many cases, you can directly access the portal to make your payments online or use the credit to purchase different things from the portal.
•There is no hidden fee: If you are applying for an online personal loan, please ensure that you have read and understood the terms and conditions, reimbursement period, rate of interest, and minimum repayable amount per month. Since all these are highlighted on the website and mobile application, it will be hassle-free for you to assess the portals before applying for a loan.
•Transparency: With the advent of automated systems and technologies like artificial intelligence in the trending digital space, personal loans are making the system more transparent. Personal loans are offered truly based on the merit of the borrower, and a defined process is followed during the processing of the loan application. If there is something inappropriate with your profile, you will be informed about this and you can then take corrective actions to rectify it.
•Real-time application tracking: Another great feature of personal loans is the live tracking of your loan application. Once you apply, you can track the status of your application through your smartphone or computer. Moreover, you will get regular updates from the lender regarding the status of your loan application. This way, you get to know the progress of your loan application and you can submit your additional documents when required.
•Competitive Interest rates: Gone are the days when interest rates against loans were handled by the branch managers. There is no space for favouritism when it comes to personal loans. The interest rates available are highly competitive and are briefed to you before you fill out the application form. All customers will be eligible for the interest rate, which is evaluated by the system based on the profile, not by any manager eliminating human bias.
•Flexible reimbursement options: Personal loans provide ease of reimbursement to the borrowers by allowing flexible repayments options. You can choose the repayment period as per your comfort, which can range from 6 months to 60 months. It allows you to select EMI options that you can easily afford. In many cases, there is no penalty for prepayment after 6 months.
•Excellent customer support: Many financial institutions provide instant personal Loans approval and offer their customers 24×7 customer support. Any questions or queries that you may have will be resolved quickly by chatbots or through email, thereby giving you a faster resolution to your queries and peace of mind.
The landscape of the finance industry has changed radically with the advent of online personal loans that are quick, efficient, paperless, contactless and seamless. LoanTap is a leader in the fintech segment providing tailored personal loans that can meet a variety of needs. LoanTap offers personal loans from Rs 50,000-Rs 10,00,000 for tenures ranging from 6-60 months with interest rates starting from 18% per annum. To know more about LoanTap and its offerings, you can visit https://loantap.in/ and your queries will be answered.