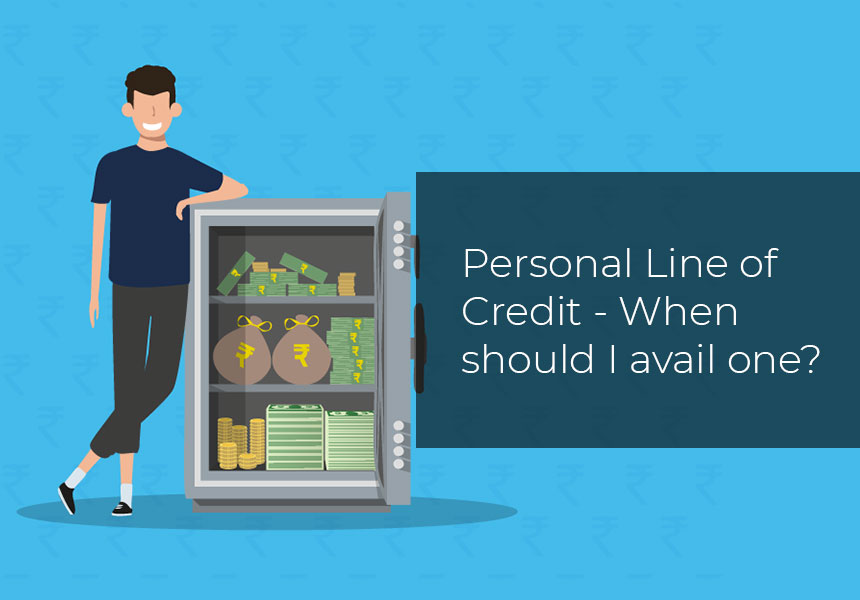 Published on : August 10, 2020
Millennials today are leading a fast paced life and are open to change. Right from lifestyles to work life, from goals to desires; passion is the major ingredient to their aspirations. However, fueling aspirations can come with some costs. At LoanTap, we understand the changing priorities of millennials and aim to support them achieve their dreams without the hurdle of finances.

We have designed various personal loan products that are flexible and are available at pocket friendly terms. If you are looking for a personal loan that offers flexibility in usage and repayments then we give you the best you can get! While we speak of 'Flexibility' the loan product that immediately pops up in mind is a 'personal line of credit'. You might find yourself boggled with a plethora of related questions as to how it works, the benefits etc., but you needn't worry! The article explains everything you need to know about a personal line of credit.

What is a Personal line of Credit?
A Personal line of credit is a facility which allows you to withdraw money as and when required and repay as and when you are fueled with liquidity. At LoanTap, the Personal Overdraft facility is the personal credit line that offers flexibility in withdrawals and repayments. Yes! You may call it an upgraded version of a credit card! What makes this product better than credit cards is the Zero Usage = Zero interest feature. You are charged interest only on the amount you withdraw and not on the entire sanctioned amount.

How Does a Personal Line of Credit work?
For example, you have availed an overdraft facility of INR 1,00,000 and you only withdraw INR 30,000 for 15 days; after which you repay the amount, then, you are liable to pay interest only on INR 30,000 and only for a period of 15 days. The amount sanctioned for the overdraft is attached to your savings or current account. You can make multiple withdrawals within the pre-approved limit. The overdraft limit is reset every time you make a payment towards the principal. This way, you need not worry about the money that is unused.

Who could benefit from a Personal Line of Credit?
A Personal line of credit is suitable for individuals who are looking to fund their long-term or recurring expenses. When you are uncertain about the amount you would need, a credit line comes most handy as it gives you the ability to keep an amount at your disposal, without having to worry about the interest on the entire amount.

Who is eligible for a Personal line of credit with LoanTap?
Individuals with a monthly income of INR 30,000 and above; and residing in India are eligible for a personal credit line loan/Personal Overdraft with LoanTap. One can avail up-to INR10 Lakhs for 60 months depending on their profile and credit checks.

Where can a Personal credit line be used?
An Overdraft facility is a personal line of credit that has no restriction on the usage of the amount extended to the borrower. However, broadly it can come handy for the following purposes-

Upgrading to Latest Electronics
You may find the need to replace old gadgets, electronics or home appliances especially during festive seasons. You may also choose to give your loved ones a new laptop or a phone. In such situations, you may not know the exact product you want to buy, so certainly you may not know the amount you would require to spend. Pertaining to the increasing work from home culture, you may need to get the latest laptop to ensure uninterrupted work. Thus, an Overdraft facility gives you the necessary funds so that you can take your time and choose the gadget you want without the worry of the availability of funds.

Business Expansion
Usually businesses are bound to witness uncertainties. Personal line of credit comes handy to businessmen in order to fuel their businesses with working capital, for buying new machinery, investing in inventory or even business expansion. So if you are looking forward to upgrading your business, a Personal line of credit will provide the support you need financially.

Medical Emergencies
A Medical emergency is most likely to catch you off guard. However, it cannot be left unattended either. If hospitalization is involved, you can certainly expect inflating bills. An overdraft facility will help cover any expenses arising from medical emergencies. You can keep the necessary cash liquidity and meet the expenses as and when they arise, without the fear of funds drying up at the moment when you need it the most.

Home Improvement or Renovation
Home renovation is a tedious and long process. In case you are upgrading your home spaces, you may be constantly id-eating on how to innovate and renovate. This may take a while as it is an on-going affair. You may require funds at different intervals; thus, an Overdraft facility may be the best fit for such recurring expenses.

Festive requirements or Celebrations
Who doesn't like to celebrate occasions with their loved ones? Wouldn't you like to add to the joy of festivals like Diwali or Christmas by gifting your loved ones and treating yourself to things you have been longing to buy? When planning an event or party, you may not be certain about how much the entire arrangement would cost. Thus, a credit line ensures that you have the necessary cash in hand to avoid a shortfall amidst the event. So, a credit line, like a credit card, would serve as the solution that helps you gift yourself and your loved ones and organise a party the way you want.
The flexibility offered by a personal line of credit or Overdraft facility ensures that you have the funds at your disposal as and when the expenses arise. It surely is a better alternative to credit cards as it offers better terms or service, higher amounts and lower interest rates! Now you know when, why and how to avail a personal credit line instead of a personal loan.

Related Articles –
Overdraft Facility for salaried – All You Need to Know
Personal Overdraft – It's like your Secret Stash of Money