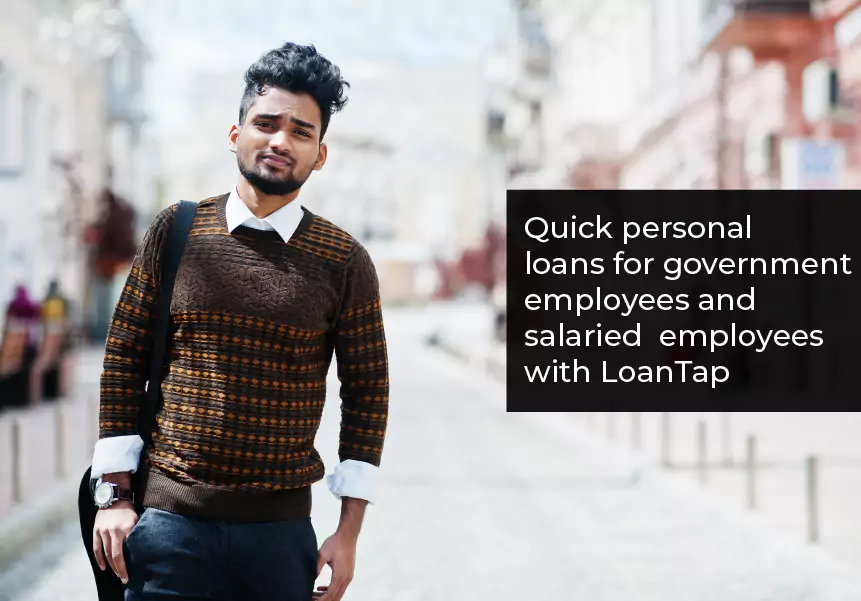 Published on : January 18, 2022
Do you get short-handed with finance when you want to buy something? Sometimes, you may face a financial strain when there is an emergency. Salaried professionals suffer more with urgent expenses occasionally which results in burning a hole in their pockets. A personal loan is a blessing in disguise for those who depend on salary to fulfill short-term and long-term objectives. It is the ideal solution to get access to immediate funds for holiday vacation, medical emergencies, pay credit bills, buy furniture, and home appliances.
Quick Personal Loans are customized loans that can be used for various purposes. It is not a surprise that these unsecured loans have gained popularity amongst millennials. LoanTap adds value in life by providing the benefit of instant disbursal of the loan amount into the borrowers' account. LoanTap offers you a quick and easy process to apply for an online personal loan. Now, the availability of loans is just a few clicks away, which has revolutionized the money-lending industry.
How do Quick Personal Loans work?
Instant personal loans provide you with the best financing options to meet financial requirements. It helps you to achieve all the things on your bucket list. Whether you are planning a wedding or trip with your friends, Quick Loans can help you in financing at lower interest rates. You do not need to pledge something to get the loan quickly. At LoanTap, Instant personal Loans provide the amount ranging from Rs. 50,000 – Rs. 10,00,000 for tenures ranging from 6 to 60 months at interest rates of 18% per annum. It is a very simple process to get access to an online loan from the comfort of your home or office.
Benefits of Instant Loan
Personal loans have made everything a lot easier for government employees. The LoanTap app allows users to avail themselves of instant loans so that they don't have to rely on their savings. Borrowing money from non-fintech lenders can also bring unexpected troubles. Personal Loans are the fastest and most innovative way to deal with any financial obligation. We have mentioned some benefits to prove why personal loans are the best form of credit for salaried and government officials.
Nominal Documentation: Easy Personal loans are bliss for people struggling with expenses. It is a simplified process with minimal documentation as compared to other types of loans. You can avail of a quick personal loan online via digital lending technology, where you only need to upload some basic documents to prove your identification for the loan application.
No Collateral: Quick loans in India are unsecured. You don't have to give any collateral for an inclusive and accessible personal loan. LoanTap helps you to get instant approval without submitting a mortgage against the loan amount.
Quick Access: Digital technology bridges the gap between customers and fintech lenders by providing loans through online platforms. LoanTap will disburse the loan in less than 24 hours. One gets instant money via a loan in just a few simple steps after the loan application gets approved on the same day.
Spend anywhere you want: There are no restrictions on where you want to spend the credited loan amount. It could be for planning your D-day or use it for financial emergencies. Other forms of secured loans are used for specific purposes. However, personal loans can be taken for any financial needs.
Transparent Process: LoanTap team will not have hidden charges as all charges are disclosed on the website. This instant disbursal loan is available at lower interest rates on the total outstanding balance. There is no prepayment penalty if the amount is repaid after 6 months.
Flexible Repayments: At LoanTap, borrowers can get small personal loans up to INR 10,00,000 for tenures ranging from 6 months to 60 months. You can go for the flexible repayment options and decide the tenure at your convenience.
Personal Loan Eligibility Criteria
There are some conditions to qualify for getting personal loans. All financial institutions have certain criteria for applicants to become eligible. Here is the checklist to clear for getting online personal loan approval for salaried employees:-
You should be at least 21 – 60 years for Salaried professionals and 23 – 65 years for self-employed/ business people.
Applicants must have a minimum income of Rs. 30,000.
You should be an Indian citizen or resident.
You should have valid Bank Statements for six months.
If you pass the qualifying round, it is time to apply for the loan. Before that, you should have some of the following documents to complete the process quickly:-
PAN Card
Aadhaar Card/Driving License/Passport
Salary slips for the last 3 months
Bank statements for the last six months
The LoanTap team will evaluate your online application for a small loan. If your CIBIL score is decent and your documents are in order, there is a high probability that your loan will be approved and the cash credited to your account.
Some Steps to Apply For an Instant Personal Loan
To get your instant loan from LoanTap, one needs to follow some steps. You need to fill out an application with basic details and documentation to grant a personal loan. You need to follow some steps to get the loan instantly:-
Install the LoanTap app from Google Play Store or visit the page https://LoanTap.in/apply to apply online.
Create your profile by filling out the basic details like email address and residential address.
After creating a profile, check out the offers and enter the desired loan amount.
Upload the basic documents or mail them to the team directly with proper validation.
Wait for the verification of the documents and scrutiny of the credit score.
Once the KYC is complete, the loan will be approved.
As soon as you match all the parameters, the loan amount will be credited to your account in 24-36 hours.
End-use of Quick Personal Loans in India
Home Renovation: It's an affordable way to get funds for home repairs and save some cash out of the month's salary. Personal Loans can help with home renovations such as fittings, repairing, or remodeling the home. You can get from a few thousand to a few lakhs from LoanTap.
Marriage: Planning weddings or marriages can cost a lot. Sometimes, it can add up a lot of stress on managing monthly expenses. Arranging immediate funds is quite hectic. Extended parties or luxurious settings can cost you additional bucks, which can be met by getting a personal loan.
Debt Consolidation: You are unable to pay credit card bills when you don't have enough account balance. Short-term loans give the option to pay off high-cost credit card bills without submitting any security.
Rent deposit: Increasingly, millennials are relocating to different cities for employment where rent can be high. While renting an apartment or house, it is normal to pay 6 months rental as a deposit . Personal Loans can help you to deposit the rent on time.
Medical: Medical emergencies don't come with warnings. Personal loans are a good option for people facing such emergencies. Getting a few bucks to pay your medical bills can save you from big problems.
Conclusion
LoanTap has changed the financial industry by providing loans with seamless and convenient processes. The tailored personal loans can help you meet your daily needs and save your savings. If you want to apply now, visit https://loantap.in/ to solve your queries. No matter what your needs, LoanTap is always available for you at the click of a button.