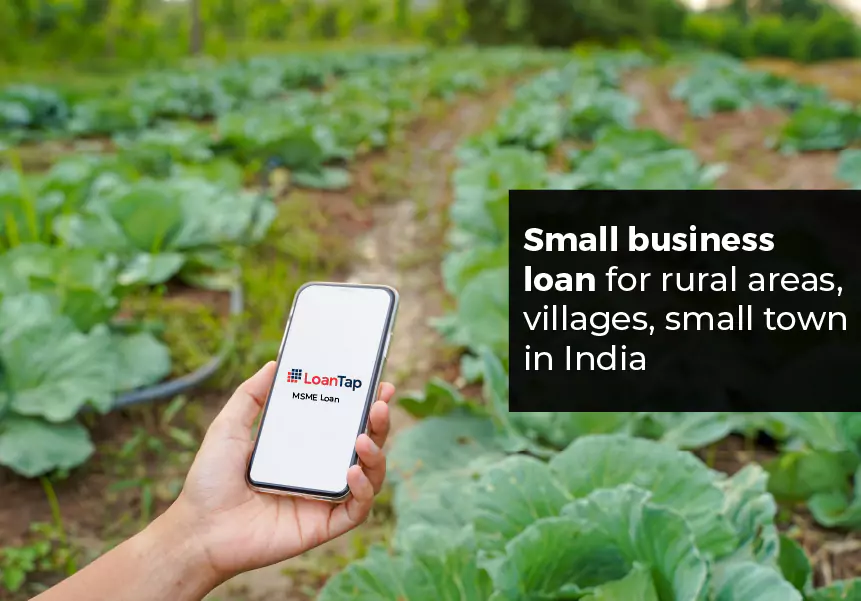 Published on : January 20, 2022
Running a business without enough investment is similar to raising a child without enough nutrition. Every small and medium business needs funding for growth and development. This New India is made up of more startups, entrepreneurs, and influences. Many small businesses come from small towns and rural areas, where social entrepreneurs are working at the grassroots level to create a better life for rural people. MSME businesses require proper operational funds to add new machinery, infrastructure, resources, and workforce to bring a big change.
Do you also want investments for your small business? You have come to the right place. Today, we will discuss Small Business Loan, which helps you to cater to the business needs and develop a new opportunity for the business. This type of loan is also known as a commercial loan, which can become a medium to maintain critical business operations of a business. Whether you are a self-employed or traditional entrepreneur, you can get a loan by applying online for a business loan with verified documents.
How do Small Business Loans work?
A business loan is borrowed capital from fintech lenders for an investment. Whether you have a new or existing business, small business loans can provide you amounts that may vary depending on your profile and business condition. LoanTap offers the loan amount ranging from INR 50,000 to 10,00,000 for tenures ranging from 6 to 36 months. It also involves the benefits, risks, terms, and conditions – that you should know before applying for small business loans for startups. With the same-day approvals on Personal loans, you can make your wishes come true in the blink of an eye.
Benefits of Instant Loan
Customized Small business Loans are essentially offered to small businesses from rural areas and towns. A business owner needs to follow a seamless online loan application process to get immediate funds.
Minimal Documentation: Avail of the business loan in just a few minutes. While applying for the loan, you will ask to upload a few documents. That documentation should be valid and updated. It is not a lengthy process and avoids any paperwork and filling out numerous forms.
No Collateral: Business Loans are generally unsecured If you want a loan amount up to 10 lakhs. You don't have to give any collateral to any bank or financial institution. However, for requesting more investments, you will need to submit your assets or stocks for security purposes.
Instant Access: The most-trusted platform like LoanTap has been providing loans within 24-36 hours. You don't have to take a trip to the bank or physically verify your details. Business Loans are accessible via the LoanTap app and website, which performs instant disbursal and credits the amount into your account immediately.
No Hidden Cost: Business Loans are easy-to-access without any hidden charges. It will charge processing fees between 2% – 3% on the total loan amount. No foreclosure charges are applicable on any loan amount if you repay after six months.
Flexible Repayments: Borrowers will get flexible repayment options from the choices available. Business Loans can be repaid through monthly EMIs. You can choose from one of the repayment options available.
Reasonable interest rates – LoanTap offers business loans at lower interest rates. The final interest rate will depend on the eligibility of the borrower, tenure, and creditworthiness.
Eligibility for Small Business Loan
There are some conditions to qualify for getting personal loans. All financial institutions have certain criteria for applicants to become eligible. Here is the checklist to clear for getting online personal loan approval for salaried employees:-
You should be at least 21 – 60 years for Salaried professionals and 23 – 65 years for self-employed/ business people.
Applicants must have a minimum net monthly income of Rs. 30,000.
You must be an Indian citizen or resident.
You should have valid Bank Statements for six months.
If you pass the qualifying round, it is time to apply for the loan. Before that, you should have some of the following documents to complete the process quickly:-
PAN Card
Aadhaar Card/Driving License/Passport
Salary slips for the last 3 months
Bank statements for the last six months
The LoanTap team will evaluate your online application for a small business loan. If your CIBIL score is good, there is a high possibility that your loan will be approved. The cash will be credited to your account within 24-36 hours.
How To Apply For Small Business Loan
To get your instant business loan from LoanTap, one needs to follow some steps. You just have to follow each step carefully to get the loan amount in less than 24 hours. Check out the step-by-step guide for applying the Small Business Loans Online.
Install the LoanTap app from Google Play Store or visit the page https://LoanTap.in/apply to apply online.
Create your profile by filling out the basic details like email address and residential address.
After creating a profile, check out the offers and enter the desired loan amount.
Upload the basic documents or mail them to the team directly with proper validation.
Wait for the verification of the documents and scrutiny of the credit score.
Once the KYC is complete, the loan will be approved.
As soon as you match all the parameters, the loan amount will be credited to your account in 24-36 hours.
Benefits of Business Loan from LoanTap
Quick Business loans will enable you to become more agile and work on new business strategies. There are some benefits by availing the SME Loans from LoanTap, which are mentioned below:-
–Quick process:
LoanTap believes in providing an efficient and faster loan application process to credit the amount for your business. It allows you to explore new opportunities as a business person. A business loan can help you to market your potential, speed up business operations, and also increase your profit margins.
– Protect your ownership
Business loans are usually unsecured business loans. So, business owners are not at risk of losing any valuable assets or stock against the loan amount. Small Business Loan Online will preserve your ownership while also providing you with investments to grow your enterprise.
– Maintain monthly cash flow:
LoanTap business loans will bring you more opportunities by providing both capital and time for you. It can further improve your cash flow and make your business profitable. These startup business loans offer you enough investment to maintain a balance between your Business fund and company capital fund with flexible repayment options.
– Manage your credit score:
Getting a small business loan in India can help you to improve your business credit score. Small businesses will be able to take care of debts and repayments to maintain credibility. A business loan with LoanTap is beneficial for companies to manage their business health due to unforeseen market conditions.
Conclusion
At LoanTap, we understand the needs of our customers and help them enjoy a pleasant loan experience. Taking a Business loan will help your business to grow with a steady supply of cash. Most small businesses would require financial support in the initial stage. Business loans are available to fulfill all your business needs and build a successful enterprise. With LoanTap you have a friend indeed.