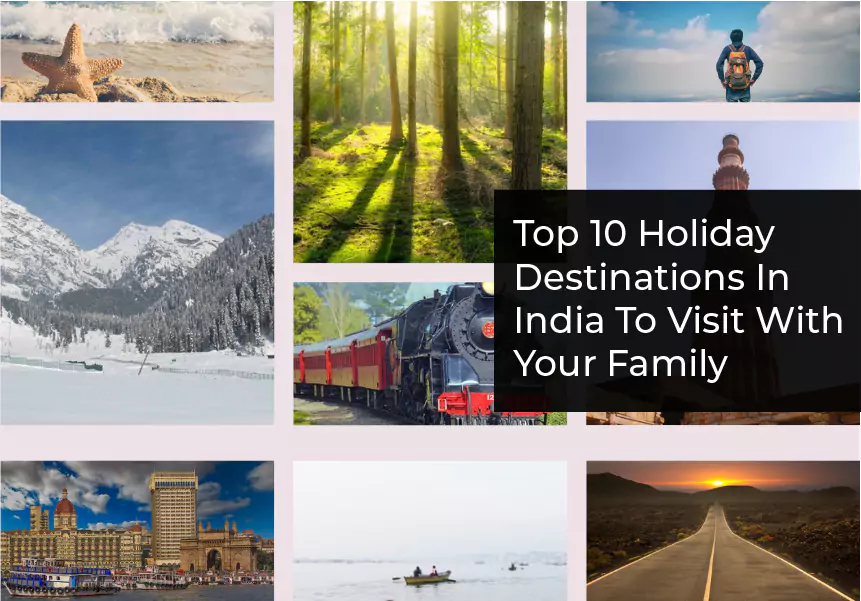 Published on : October 26, 2021
Overview
India, a grand masterpiece of sites, people, cultures, traditions, colours, and religions, will enchant you with its never-ending allures. India can please you in more ways than you can imagine, from witnessing the trails of architectural pasts to experiencing the peacefulness of valleys, immersing in the salty sea waters, or bathing in religious ceremonies. So, as you explore these sites to visit in India with your family, be prepared to be surprised at every turn.
Continue reading till the end to find out what the list has in store for you!
Top 10 Holiday Destinations To Visit With Your Family:
A tour through these 10 greatest destinations to visit with family in India, filled with infinite charms, will bring you closer to your loved ones than ever before. Every type of family will find something to do in each of these locations. So, what exactly are you waiting for? Now is the time to start planning!
1. Andaman And Nicobar Islands
'Kaalapani,' as it was originally known, Andaman is today a renowned tourist destination and one of India's top places to visit with family. A vacation to Andaman is exciting and enchanting because of the tropical atmosphere, white sand beaches and coral reefs, lush green rainforests, and active volcano.
Must-Visit And Activities In The Islands:
Scuba Diving in Havelock Islands
Light and sound show, Cellular Jail.
Swimming in the sea and other water sports are available at the Andaman water sports complex.
2. Kashmir
Kashmir is one of the most beautiful spots in India to visit with your family. The profusion of spectacular visual beauty draws visitors of all ages to this oasis. This miniature Switzerland of India attracts visitors from all over the world, of all ages, and is always on every Indian's bucket list. You must go to this earthly paradise and meditate in the flower valley while listening to the laughter of your loved ones.
A Must-See In Paradise:
Srinagar is known for its shikara rides and houseboats.
Skiing in Gulmarg
Baisaran Valley's Pahalgam
3. Rishikesh And Haridwar
This year, are you planning a religious-fun family vacation? Your family will love Haridwar and Rishikesh! Bathe in the Ganges to wash away your sins at one of India's holiest towns. Travel to Rishikesh with your kids and take a walk on the swaying Laxman Jhula.
A Must-See:
Laxman Jhula – the swaying bridge in Rishikesh
Adventure Sports At Mansa Devi Shrine in Haridwar
For the evening, visit Har-ki-pauri Ghat Maha Aarti
4. Kodaikanal, Coorg, Ooty
If you're planning a trip to the south and want to relax and enjoy the scenery, this is the place to go. Coorg, Ooty, and Kodaikanal are ideal places to visit for a relaxed vacation. These regions are heavenly destinations because of the lush green hills, deep woods, magnificent rivers and lakes, winding mountain routes, fantastic weather, and many other attractions.
A Must Visit In Coorg:
The Raja's Seat offers a breathtaking sunset vista.
Abbey Falls is one of Coorg's most popular waterfalls.
Bylakuppe, near Kushalanagar, is one of South India's major Tibetan settlements.
A Must Visit In Ooty:
Botanical Garden for a 20 million-year-old fossilized tree
Lake Garden for the fiberglass dome
High altitude deer parks of India
A Must Visit In Kodaikanal :
Climb to the Pillar Rocks and Kodai's protruding rocks for a spectacular panorama.
Coaker's Walk offers breathtaking vistas.
For a panoramic perspective of the valley, visit the Telescope House.
5. Delhi
If you're not sure where to start your India vacation, the Golden Triangle is the perfect area to go with your family in India. The Golden Triangle is a tourist route that connects Delhi. The term also alludes to the shape produced by their coordinates on a map. The India Gate, Red Fort, and Qutub Minar in Delhi are all prominent historical landmarks worth visiting.
A Must Visit In Delhi:
India Gate
Red Fort
Qutub Minar
Parliament House
Connaught Place
Chandni Chowk
Jama Masjid
Janpath
Sarojini Market
6. Mumbai
Mumbai, the city of dreams, is home to the majority of Bollywood celebrities and never sleeps. Places near Mumbai attract tourists like crazy, whether it's the mandis ready for early morning clients or marine drive for a walk by the sea at any hour.
Must-Visit Spots:
To see the city's favourite God, Lord Ganesha, go to Siddhi Vinayak Mandir.
The spectacular Taj Mahal Palace Hotel may be seen from the Gateway of India, which is also accessible by sea and ferry excursions.
Stop by Band Stand, which is located in front of Shah Rukh Khan's house Mannat, for a tranquil seaside experience.
Juhu is known for its Chowpatty, which has food stalls that serve mouthwatering chaats, Pani Puri, and Pav Bhaji.
Lonavala, Shirdi, and Nashik are also worth seeing. Make the most of your trip by planning ahead of time.
7. Banaras
Varanasi, also known as Banaras, is the world's oldest city. The city, which is situated along the ghats of the holy river Ganga, is a must-see for a magnificent religious experience. Varanasi has been hypnotising travellers with its mesmerising chants and echoing aartis for hundreds of years, symbolising spiritualism, philosophy, and mysticism.
A Must-See:
The Well of Wisdom, or Jnana Vapi, is said to have been dug by Lord Shiva himself.
For a true Banaras experience, take a boat ride along the Ganges river.
Kashi Vishwanath Temple, with its gold-plated towers, Ramnagar Fort, with its museum showing vintage cars, royal palkis, and more, and Banaras Emporium, where you may buy a Banarasi Silk Sari for your wife or mother.
8. Puri
Until the Jagannath Yatra comes, this magnificent city remains almost serene throughout the year. Even on the hottest days, the city welcomes you with a cool breeze, and the towering temple provides an aura of tranquilly to your leisure journey.
Must-Visit Here:
Beach
Local businesses that sell enticing antiques and artefacts.
Chilka Lake
The Sun Temple at Konark
9. Nainital
Nestled among the foothills of the Kumaon ranges in Uttarakhand, lies the blissful city of Nainital. Its proximity to Delhi and Dehradun makes it one of the most popular hill stations in North India. Nainital has a pleasant climate round the year and is great for family trips. It can be accessed by road from neighbouring cities and you can enjoy a quiet holiday soaking in the climate.
Must Visit Here:
Naini Lake
Govind Ballabh Pant Zoo
Tiffin Top
Jim Corbett
10. Himachal Pradesh
Himachal Pradesh or the Snowy Slopes is one of the northernmost states of India. It is known for its scenic beauty with the snowclad mountains and pristine valleys. You can have a dream vacation with your family in Himachal Pradesh. There is a lot to see and do in the picturesque surroundings and the lovely cool climate.
Must Visit Here:
Manali and Rohtang Pass.
Shimla
McLeodganj
Yak riding in Kufri
Solang Valley
Planning for a dream holiday with the family may be the right thing to do as the fear of the pandemic ebbs slowly. You have a variety of options to choose from depending on the time available and the budget. Don't fret too much about the funds. Once you narrow down on your choice, you can work out the approximate budget by taking into account the travel and accommodation costs. Once you have a number in mind, click on https://loantap.in/ and select Holiday Loan. Fill in your details and submit the online application along with the following documents –
PAN Card
Aadhaar Card
Salary slips for the last three months
Bank Statement of the Salary account for the last six months
Once you submit your travel loan application it will be evaluated by the team at LoanTap. If you have a decent credit score and meet the personal loan eligibility parameters, the loan application will be approved and the amount credited to your account within 24-36 hours. You can opt for an interest only emi for the first 3 months and normal emis thereafter. After servicing the loan for 6 months, you can prepay the loan without any prepayment penalty.
Enjoy your holiday with the family without worrying about the funds. LoanTap offers extremely friendly Holiday Loans starting from Rs 50,000 – Rs 10,00,000 for tenures ranging from 6 months to 60 months. Annual Interest rates start at 18% which makes a personal loan cheaper than credit cards. Think ahead. Plan Early. Enjoy that planned holiday you deserve with a LoanTap Loan. Return back refreshed and rejuvenated and pay the loan off in convenient instalments. Sounds good, doesn't it?
Related articles –
Guide to Travel Loan : Fuel your Travel Aspirations