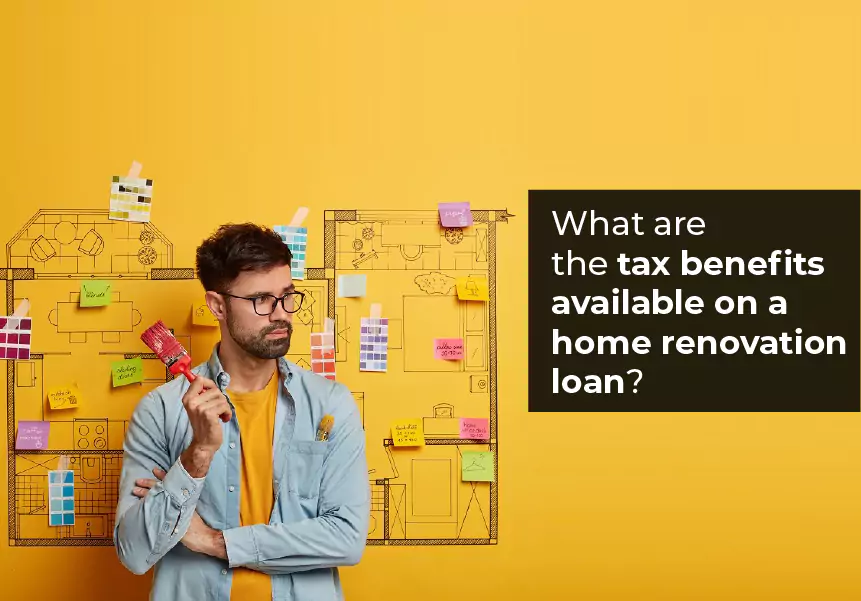 Published on : September 22, 2021
Personal loans are unsecured loans that can be availed of without specifying an end purpose which essentially means that you can borrow for any legal purpose. For instance, if you are planning to renovate your home, you can definitely look for a home improvement or home renovation loan and pay it off in easy EMIs.
Buying a house is a dream come true for most people. After a few years, you may need to make changes and renovate or repair your house to give it a new look. You would enlist the services of an interior designer and draw up plans and get a quotation for the same. Since a home renovation is a big-ticket expense, you may choose to take a personal loan for home renovation.
It is important to note that the interest paid on a home renovation loan is eligible for tax benefits under the Income Tax Act. You will need to make the payments in your own name and keep the receipts for tax filing purposes.
How can I get a Home Renovation Loan from LoanTap?
Step 1 – Check your eligibility for a personal loan. If you are an Indian citizen or resident over the age of 21 years and earning a net monthly income over Rs 30,000 you are eligible to apply for a personal loan.
Step 2 – Go to the LoanTap website and fill up the online application form and upload the following documents –
PAN Card
Aadhaar Card
Salary Slips of the last 3 months
Bank Statement of the Salary account for the last 6 months
Step 3 – Wait for the LoanTap team to evaluate your application. If your documents are in order and your credit score is decent, your loan application will be approved and the loan disbursed within 24-36 hours.
LoanTap offers home renovation loans from Rs 50,000- Rs 10,00,000 for tenures ranging from 6 months to 5 years. Interest rates start at 18% per annum. After you service the loan for 6 months, you can repay the loan in full without any prepayment penalty. LoanTap offers a range of repayment options to choose from.
What are the tax benefits of taking a home renovation loan?
The speciality of home renovation loans is that you can claim tax benefits on the interest paid.
Section 24 of the Income Tax Act 1961 provides that you can avail a deduction of up to Rs 30,000 per annum on home renovation loans. This is included within the overall deduction of Rs 2,00,000 provided for interest payment on home loans taken for self-occupied property. No benefit is available for the principal amount of the home renovation loan unlike the home loan where repayment of the principal amount can be deducted under Sec 80C.
What is covered under Home Renovation under Income Tax Act?
Before you count your chickens, it will be good to know what is covered under home renovation from the Income Tax point of view. Buying a new television for the living room or getting air conditioners for all the rooms will not fall under the home renovation definition for the purpose of claiming tax benefit.
According to the Income Tax definition, home renovation or home improvement mainly includes any reconstruction work like adding a balcony, extending a wall, adding a room or a floor, painting, reflooring, retiling the kitchen or bathroom, changing the plumbing etc. However, the purchase of any consumer durables is not included in this definition.
LoanTap provides you with tailored solutions for all your personal loan needs. A home renovation is usually a dream project and it is possible that you may need a loan to make all the changes that you desire to give your home a fresh, new makeover. You focus on the work and let us take care of the financing. After all, it is not a project you undertake often and you must make sure it is exactly what you planned it to be.
With LoanTap's customised Home Renovation Loan or House Owner loan, you need not worry about the funds. You can repay in easy EMIs over the loan tenure. After you service the loan for 6 months, you are free to foreclose without any prepayment penalty. The best part is that you can avail a tax benefit up to Rs 30,000 on the interest paid which makes it, even more, cost-effective.
What are you waiting for? Get your home renovated before the festive season and let LoanTap help you with the funding. For all information regarding personal loans, please visit the LoanTap website and we will be glad to assist you.