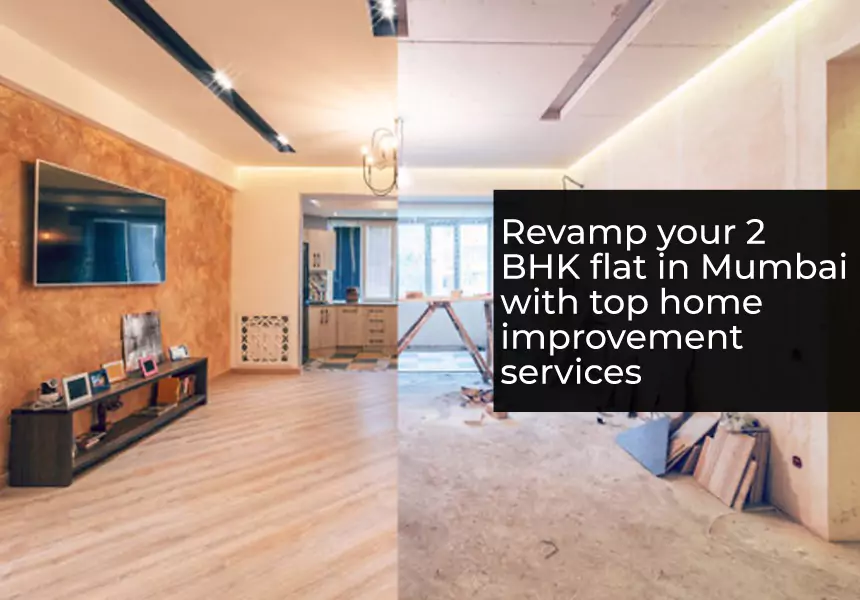 Published on : December 09, 2021
Are you living with the same furniture in the kitchen or bedrooms? Does your home also have termites? Do items of furniture need to be refurbished? So now, it is time for you to renovate your house and consider these small problems more serious. It is also a common practice for people to renovate their homes. After all, it is the only place where individuals can spend most of their time. The renovation includes improving, rewiring, redecorating, or redesigning a home. If you are not sure why renovation is important, check this list of 6 benefits of renovating your home.
Renovate your home or 2BHK/3BHK, But Why?
Increase Your Comfort
Comfort is one of the primary reasons to alter your home. A home is the only place where you feel more comfortable and always look forward to going at the end of the day. Your house style should be a cosy living space. Renovating solely to improve the style for selling purposes may compromise the comfort and enjoyment of your home.
Upgrade your Home Style/ Function
Maybe, you are looking for a private space to study or work. Your 2bhk/3bhk apartment is quite old-fashioned. There is also not enough space for storage. When you look at your house, you always find out that some spaces/furniture can be better utilised. There's a chance that old pieces can be converted into the most appealing furniture using a smooth renovation method. If you decide to renovate your sweet home to save the hassle, then go for it.
Fix Safety Issues
When suddenly a serious issue arises, a red alarm goes off. An outdated home can have electrical problems, cracks in the walls, roof leaks, and so on. These issues can become a huge problem. So, they must be taken care of before any catastrophe happens. You should revamp your house to prevent your family and home from total loss. In this case, you can also count on renovation companies and electricians for professional help.
Improve Home Efficiency
Improving home efficiency will result in lower electricity bills and reduced energy usage. This way, you can save thousands of rupees with a few improvements. An efficient home attracts more buyers if you are selling your house. You can also install energy-efficient appliances and designs to attract a higher value for your house in the market.
Increase the home's value.
Revamping means rewiring the old-appliance for the quality of your home. It will increase the value and get a higher price when you sell your house. There are several renovating companies in the market. You should undertake professional renovation help to prepare your home. If you are not looking to sell, it's okay. It is a long-term investment to give a perfect start to your house.
Save the Cost of Moving
Renovating your old house always saves the cost of moving. This way, you can avoid the stress that comes with selling and buying homes. Also, moving to your new house will cost much more than improving your current house with better modern ideas. It is a cost-effective method as opposed to buying a new property elsewhere.
Best 5 Renovation Service Providers in Mumbai
After learning about the importance of renovation, you can take a look at the Best Renovation contractors in Mumbai. Additionally, you can compare the renovation service providers on the basis of features and services they provide.
Anuj Srivastava and Ramakant Shrivastava, two college friends, started Livspace in 2014 to provide a complete renovation and home interior design solutions. It is the most trusted brand in India, with thousands of happy customers and homeowners. Livspace is a one-stop-shop to enjoy end-to-end home design services from designing to installation of magazine-like interiors.
Why choose Livspace?
Get Budget-friendly solutions for the home.
Access to 45 days move-in guarantees after completing the projects.
Get a free 10-year warranty on the renovation they have done.
Industry Experts will do 146 quality checks to make sure everything is good.
Use only superior technology to build a sturdy home.
Services: modular furniture & kitchen, customized designs, wardrobe solutions, storage space renovation, budget planning and pricing, vendor management.
Want to renovate your home interior? Take a look at Design Cafe, a branded home renovation and interior designer in Mumbai. They will make a dream home as per your taste, style, and preferences. Design cafe was founded by Gita Ramanan and Shezaan Bhojani a few years ago. Their professional and passionate team spends countless hours creating a space to give joy and delight when you're with family or friends.
Why Choose Design Cafe?
Create personalized and customized modern designs.
Use only premium quality materials and manufacturing done in their factory.
Full customer support and advice to answer your worries.
Offer a 10-year warranty with a modern renovation experience.
Get budget-friendly prices for every type of customer.
Services: 1bhk/2bhk/ 3bhk interior designs, space-saving renovations, custom modular kitchens, Office interior design, and more.
Smita Vijakumar and Yateesh Contractor started a Mumbai-based private limited design and renovation service provider. ReNNovate is the brainchild of Smita and Yateesh, a power couple born in 2017. They came with one goal to provide you with sustainable residential renovation solutions. ReNNovate has become a reputed brand with ten years of experience building structured, organized, and innovative-style homes.
Why Choose ReNNovate?
Provide a 100% customization solution to choose your style and design.
Offer a 3D visualization facility using Virtual Reality( VR).
Use only branded factory finished products and manufactured with high-quality materials.
Commit to making your house within 45 days.
Get a 5-year warranty along with professional support and advice.
Services: Interior design, modular furniture, modular kitchen, renovation work, electrical work, and other on-site services.
Indecor. Co was established in the year 2010 by enthusiastic interior designers and architects. They work with a common goal of providing customer satisfaction and a hassle-free experience. The core team uses smooth processes to renovate your home. Highly experienced site executors, project managers, and trained interior designers focus on crafting the house design with 100% transparency and superior quality materials at affordable rates.
Why Choose Indecor?
Provide the complete home renovation service in one package.
Provide full guidance and consultation to execute a home project.
Display a 3D live view of home designs using VR (virtual reality technology).
Offer low-budget home makeover solutions without compromising quality.
Services: full home renovation, home & office automation, commercial space interiors, exterior building repair, space planning services, and interior project consultation.
Give a fresh start to your home with CivilLane. They do the renovation in three steps: Design, execute, and furnish. CivilLane offers better living space with stress-free service and a turnkey solution for style-up home interiors. CivilLAne's qualified interior designers and skilled contractors transform your imagination of a beautiful house into reality. They believe in building dream homes.
Why Choose CivilLane?
Provide 2D/3D design service that shows how your renovated home looks.
Get a free service to plan your budget and know the estimate for renovating a home.
Offer affordable home packages to lessen the worry of spending too much.
Give Free consultation on WhatsApp to share your plan and ask your questions.
Services: Renovation and interior design for home, office, and commercial places.
Final Words
To have a good house renovation, you need help from the renovation service providers. If you are a Mumbai resident and have a 2bhk/3bhk house, you can choose any one of the above as per your requirements to enjoy the best home renovation.
Don't worry about funds. LoanTap is there to come to your rescue. LoanTap offers loans from Rs 50,000- Rs10,00,000 for periods ranging from six months to sixty months. Interest rates start from 18%.
If you are an Indian citizen or resident over the age of 21 years(less than 60 years) and earning a net monthly income of over Rs 30,000, you are eligible to apply for a personal loan from LoanTap.
The process is very simple. All you need to do is visit the LoanTap website or download the app on your smartphone. You can fill in the required information on an online application form and upload the following documents –
PAN Card
Aadhaar Card/Driving License/Passport
Salary slips for the last three months
Bank statements for the last six months
The LoanTap team will evaluate your application and if your documents are in order and you have a decent CIBIL score, your loan will be approved and the cash credited to your account. The entire process will not take more than 24-36 hours.
You can use any of our flexible repayment plans for making the EMI payments. If you choose to foreclose the loan after six months, there is no prepayment penalty.
If you are planning to renovate your home, go ahead and give your house a new look. We are just a few clicks away whenever you need funds.