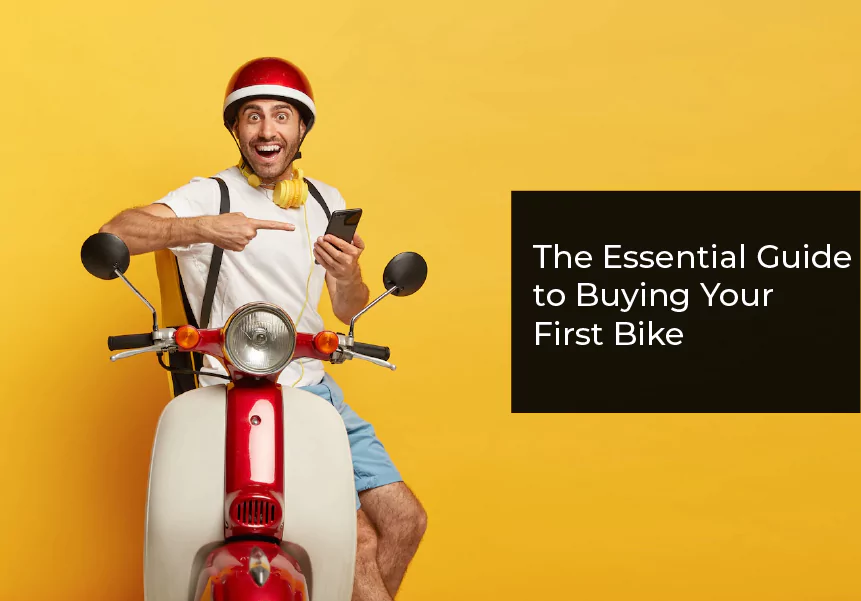 Published on : October 01, 2022
Buying the first bike can be a momentous occasion in a person's life. It signals independence and freedom of mobility. For several, it may be a stepping stone to their progress in life- be it reaching their workplace on time or starting their own business. The increase in carbon emissions and the resultant pollution of the atmosphere raises the need for clean and green transportation. This is the reason why there is a sudden proliferation of electric bikes. Several manufacturers and startups have come up with sleek new models with detachable lithium-ion batteries that can give you a comfortable ride without throwing out dangerous fumes or creating noise pollution. The government is so keen to reduce Carbon emissions that it is ready to incentivize both manufacturers and consumers to promote the use of electric vehicles.
What should you take into consideration while buying your first bike?
There are several factors that play a role while deciding on the first bike. Let us explore some of the critical ones.
Fuel or Electric – It is your choice if you want to go for the conventional fuel bike or an electric one. Given the way fuel prices are rocketing and considering the negative impact on the environment, it may be a wise decision to go for an electric bike as your first choice. This would be a responsible and environmentally conscious decision too.
Mileage – It would be critical to know how much mileage the bike gives for a single charge, the higher the better. You can check out all the brands available and compare on this parameter.
Running cost – If you look at running costs, an electric bike beats a fuel bike, hands down. Compare an approx INR 0.15/km with INR 4 /km and your choice will be a no-brainer.
Maintenance– Electric bikes are far easier to maintain compared to fuel bikes as they have lesser moving parts. This makes them more economical in the long run.
Subsidies – The Central and State Governments are offering subsidies and incentives for the purchase of electric bikes. So you may end up saving some cash if you opt for a new electric bike in India.
Financing – Banks, NBFCs and fintech companies are vying with each other to provide attractive financing schemes for the purchase of electric bikes. As a consumer, you can get great deals which will make the purchase of your bike even easier. Budget – After you compare the features of all the electric bikes available, you will need to make an informed decision based on the budget available. Here is where the financing comes in useful. If you are falling short of funds to buy the bike you really like, you can go for a personal loan from LoanTap.
Can I use bike finance online to buy my first bike?
If you are an Indian citizen or resident over the age of 21 years and earn a net monthly income of over INR 30,000, you are eligible to apply for a personal loan from LoanTap. LoanTap offers tailored loans for electric bikes up to INR 2,00,000 that can be repaid over a period of twelve to thirty-six months.
What is the process of applying for bike finance online?
The process of applying for bike finance online is very simple. All you need to do is download the LoanTap app on your smartphone. Fill out an online application with the complete details.
You will need to upload the following documents –
PAN Card
Aadhaar Card
Salary Slips for the current month
Bank statement for the last three months
Income Tax Returns for the last two years (in case of self-employed)
Once this is done, the system will verify your application and check the uploaded documents. If everything is in order, your loan will be approved and the sanction letter will be issued. You can use it to buy the electric bike of your choice from the showroom near you.
You can pay off the loan over the agreed tenure. You can even foreclose the loan after six months without any prepayment penalty.
Benefits of taking a loan from LoanTap
Bike finance online from LoanTap comes with several benefits.
Instant disbursal – Unlike traditional loans, bike finance online is disbursed within 24 hours. This is a very important feature as it can impact your purchase decision.
24/7 availability – Traditional loans are limited by weekends/ holidays but buying a new electric bike in India using a LoanTap loan has no such limitations. It is available around the clock.
No paperwork – Apart from the online application, there is no paperwork involved which makes it convenient for borrowers.
Minimum documentation– A few mandatory documents are required to be uploaded apart from which nothing else is required. This makes the process easy and hassle-free.
Cheaper than credit cards – Bike finance online from LoanTap works out cheaper than swiping your credit card. Credit cards charge 2.5-3% per month on outstanding balances while a loan comes at half the price.
Transparent process – LoanTap follows a transparent process with no hidden charges. What you see is what you pay.
Conclusion
Getting your first bike can be a heady experience. Make the most of it. Do a thorough research and make an informed decision after taking into consideration all the variables involved. Since it is an important choice to make and will impact your mobility, it makes sense to spend considerable time to assess the various models before coming to a conclusion. If your final choice looks a little steep because you are falling short of funds, don't get flustered. LoanTap is ready with tailored solutions to help you realize your aspirations. So, don't shortchange yourself. Make your choice and get LoanTap to finance it. Download LoanTap app today.