Published on : December 18, 2019
As the year 2019 rolls to closure, there is optimism in the air, an infectious optimism of doing better in 2020 than we did last year – eating better, working out more regularly, catching up with friends & family, investing time in professional & personal growth, and making the new year count.
Let us focus on an aspect that fuels most other facets of life: managing your money!
We live in a credit era – credits that allow us to live life the way we envisage and not wait for the salary cycle to decide if we can party on our birthday or book the low-fare tickets for the dream trip. But living in this era means that we need to take informed decisions while taking credit/loans. Each of us own a bunch of credit cards with each card having different payment cycles, specific terms, reward points system, and deals that let you make cheaper travel bookings and food purchases.
Our credit reports and scores are impacted by the credit we take and the way we pay it off, and these credit scores and/or reports define the lifestyle that we can afford in days to come. A less than desirable score lowers our credit worthiness and can place us in a not-so-happy-spot with personal loan providers. We end up paying a high interest rate for loans that we get, or worse, we may not be eligible for a loan or a credit card at all.
Keeping all this in mind, we need to figure how to be financially sound; we could begin by making these resolutions in the new year:
Resolution #1: Maintain a Healthy Credit Score
Your credit score is like a report card for your financial health. Just like your medical or health records are critical for your physical well-being, your credit report is critical to understand your financial well-being. So, it is important that you check your credit report at regular intervals. This way, if there are any discrepancies or inaccuracies, you can rectify them immediately.
In today's context, it is easy to scan through your credit reports with key credit rating agencies (like CIBIL, Experian, Equifax, and Highmark) since the reports are available for free or for a small fee. Schedule it like an annual health check up to ensure you don't miss or ignore checking your credit reports.
Make sure your credit report is error free and 100% accurate because this decides your future loan and/or credit card eligibility. Also, make sure that your name and contact details are correct, and update them if there's any error. Keep an eye on the data entries on your loans, credit lines, and repayments as well.
Read More About : Factor That Affect Your CIBIL Score
Resolution #2: Borrow Carefully and Repay on Time
While this seems like an obvious one, this resolution can be difficult to keep . It is important to select your loan providers with care.
Are they able to cater to you on the go?
Do they offer digital applications, payments, and monitoring facilities?
Are they quick to validate documents and disburse loans?
Do they offer competitive rates of interest without hidden charges?
Do they have a customized approach for lending or follow a one-size-fits-all method?
These are the questions you ask and evaluate before borrowing from a loan provider.
In case of credit cards, check the terms and conditions carefully to avoid disputes at a later stage. Credit cards are usually very tempting to use: one quick swipe and you've bought yourself your dream! But this privilege needs to be complemented with responsibility in keeping track of payment cycles and ensuring timely repayments. Such discipline pays rich dividends; your glowing credit report and enviable score will be reward enough!
So, this is a critical resolution you must NEVER break! If it helps, set reminders for these payments to stay on top of your finances.
Resolution #3: Consolidate your Credit Card Debts
To keep this resolution, you need to understand this very practical and stress-busting way of debt management. Figure out how much money do you need to pay off all your existing debts (loans, credit cards, etc.). Take a personal loan for that amount and finish off all the existing debts. Now that you have streamlined your debts, you just need to take care of this new loan that you have used to pay off all your debts.
No more worrying about multiple payment dates, rates of interest, and terms! Just focus on the one personal loan and you are good to go. This will also help you snap out of the "pay the minimum amount" concept for credit cards and steadily help you get your finances back on track.
Several financial institutions, including LoanTap offer Credit Card Takeover Loans as a real and practical way of collating and paying off multiple debts. This loan is available at as less as 1.5% monthly interest rates as opposed to the 3%–5% rate of interest typically applied by credit cards. The credit card takeover loan can be well utilized to consolidate debts of multiple credit cards based on your credit scores – making it easier to manage. Personal Loans to the tune of a few thousand to a couple of lakhs are available to help you with your debt consolidation; the tenure would range from 6 to 9 months. Based on your financial inflows, you can pay monthly interest and pay the principal loan amount at the end of the loan tenure or prepay the loan (at 0 prepayment charges with LoanTap) to clear off your debt.
It is important to also consider that your outstanding on credit card affects your credit score negatively, leading up to a negative spiral on financial health.
Read More About : How to Deal with Credit Card Debt
Resolution #4: Be Credit Smart
It is great to be alive in the credit era and to be able to experience life without cramping your lifestyle. Apply for personal loans when you need them, but make sure you are not living from one loan to another; revolving credit on cards or taking a loan at the risk of not being able to repay, is not recommended. For example, taking a wedding loan to cover your wedding expenses is a good idea, but it is also important to keep an eye on the repayment plan and make sure you prove yourself as a good credit candidate to your lender so that you are eligible for a loan the next time you need one!
Conclusion
New Year is about positive vibes and happier times; and building a better tomorrow with a great score card on health and wealth. These resolutions will help you stay on track with your financial wellbeing in the coming year and beyond!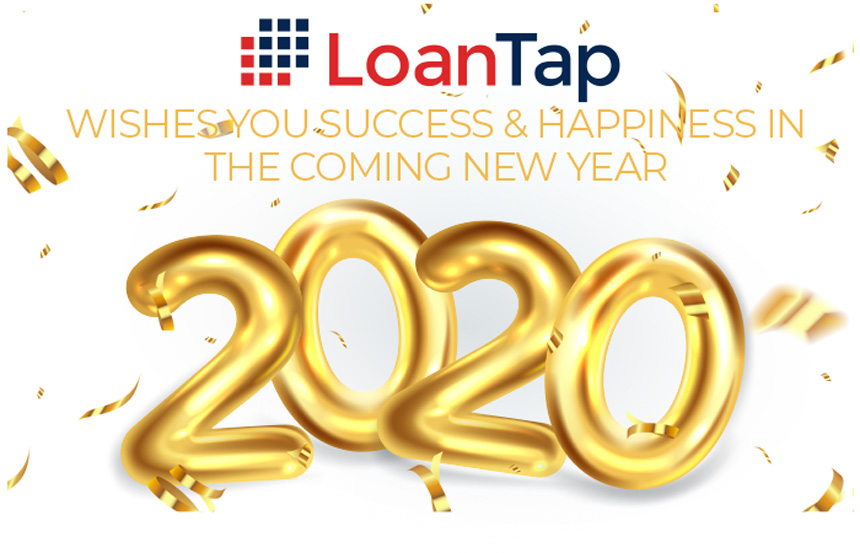 Download our Personal Loan App: Google Playstore / Apple App Store